Trying to get this out without destroying my keyboard or killing blogger.    I've been having a hard time getting my posts to format right for some reason.  I'm blaming the "new" blogger since I hardly ever had problems with blogger before.    I'm looking to see if I want to move my blog but I'm not sure where to go.     Not to mention I don't have tons of time to redo everything.   :o(
We've been getting hit with tons of snow in the last 2 wks.    The schools schedule 5 extra days to be used for snow days.   I can't remember if we've used 5 or 6 of them.  If we're up to 6 that means we'll either have a staff development day taken away later in the year.  Or the kids will have to go an extra day at the end of the year.  
Liz took pictures after the Nor'eastern came through on Wed.  I took the second pic of the same tree and picnic table on Fri morning after the lake effect had hit us with another 18+ inches.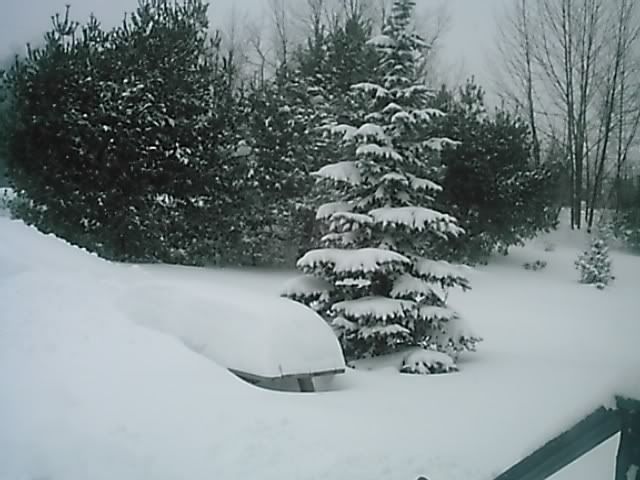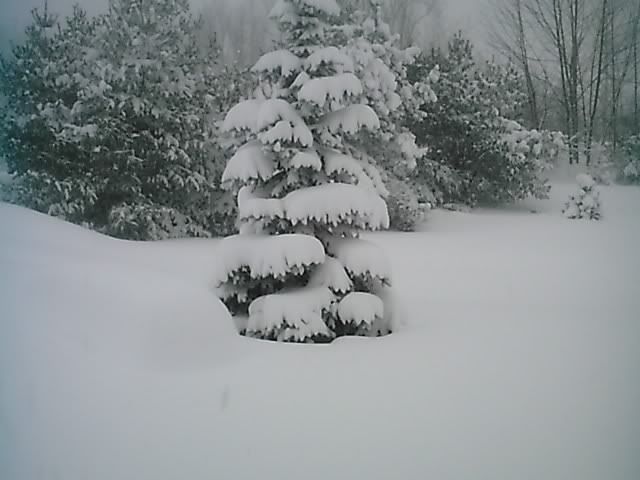 The kids were a bit bummed to see snow days this week since they canceled their V-day parties Wed.   I  didn't mind, especially since the last 3 snowdays comes on the heel of mid-winter break.     Helloooo extended vacation!     With Mid-winter break comes out annual Island week celebration.  We've been getting the house ready slowly but surely.  It's looking the best it's looked in quite a while.  :o)    Friday the kids started decorating.   Michelle made an really cool banner for the wall.    It's about 18ft long with HAPPY ISLAND WEEK written in block letters across it.  Each letter is decorated differently (rainbow, flowers, I looks like a dock, S looks like a water slide)    In between each letter she's drawn one of us doing something (Tom in a boat, me waving to him, Drew and Pat playing frisbee with on either side of a palm tree "P", Jake fishing from a hammock strung across the top of the "W"...etc)  I tried to take a pic of it and they didn't come out well.  Maybe once it's down and I can control the lighting a bit more it'll be ok.  
We've had lots of good food as always.  I sometimes wonder if we have an unhealthy relationship with food.  If I'm creating problems in my kids after they become adults...especially with Type 2 diabetes risks so great in their lives.   Thing is, having a large family....you don't go very many places as a group.  You can't always be doling out money to do things as a group.   Even a simple thing like a daytrip to the zoo can cost a pretty penny.   But it's ok to spend a little extra money on food to enjoy as a group.   You have to eat, why not make it fun too!    I guess I just have to trust that I taught them good everyday choices skills.    
So far we've had....
Sat...
Roasted Sticky Chicken
Sun...Peach BBQ Porkloin Roast (ended up being bottled bbq sauce with peaches thrown in lol)
Mon...Chicken nuggets (things got away from me that day lol)
Tues...
Easy Island Chicken
Wed...Fried Flounder and clam strips
Planned for the rest of the week....
Thurs... Sweet and Sour Meatballs(Yoshida's Hawaiian Sweet and Sour sauce over a crockpot full of frozen meatballs)
Fri.... Pork Chops (think I'm going with teryaki but not sure)
Sat....Hawaiian Pizza and wings
Sun...Chicken Skewers (seasoning unknown as of yet)
Things might get bogged up a bit on Thursday since we're heading out the door bright and early with no idea of when we'll return.  We may end up getting dinner on the road.  If that's the case then we'll move the meatballs to Fri and forget the chops.  Where are we going you ask?  We're going to use our family membership to the MOST (museum of science and technology) that my mom got us for Christmas.   Everyone is excited!  Especially Tom.  He's never been there.  I was there when it was just the discovery center (almost 20yrs ago! ....no comparision to what it is now).   The kids have all gone on school field trips there over the years.    I hope everyone else on break doesn't have the same idea.
Pregnancy wise things have been up and down.   The beginning of the month saw my blood pressure go through the roof.  I called and asked to be seen a day early when I woke up with a reading of 200/110.   It went down before I got there but it wasn't at a great level.  I was feeling like garbage and dr decided I had a stomach bug.    I probably did but wasn't the one to throw up, that was reserved for 3 of the kids that night. lol    I took it easy until my next appt and things seem to have calmed down a bit.  It's still a tiny bit elevated but we can live with where they are right now.   
I'm feeling a bit out of sorts already.  For some reason my legs and feet have decided they need to stay on the brink of a full blown cramp.  So one wrong move makes them cramp up.   When that's not happening they feel achey and tight.   I'm trying to make sure I'm drinking MORE water (then my 64oz a day), taking my cal/mag/zinc supplement, and my potassium prescription.  It doesn't seem to be helping.   I really need to be more active!!!  Once the kids get back into school I'm hoping to break out my WATP dvd I haven't used yet.  *blush*
I postedmy first belly pic on the LOK pg/ttc board (link to the board in my sidebar).   The story is that I threw on my bathingsuit in honor of Island week.  Since this is as naked as I'll get in public...it was a good thing to take a belly pic in.  My excuse for the harried look is...I was in the middle of doing the dishes and hadn't brushed my hair that day (only threw it up in a semi bun).  Maybe next time we'll do a glamour shot. lol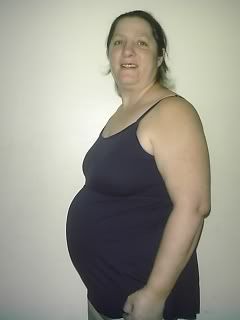 16w2d with #12
Well, I've wrestled with this stupid text box long enough.   Off to get some breakfast!   Have a great day...HAPPY ISLAND WEEK!