We finally had a Christmas where my head never hit a pillow. In the past I've always managed at least one or two hours of sleep. I was SO far behind that I considered not going over to BIL's house when the rest of the family went. I just couldn't do it though.
We had a great time at BIL's house. I had 49 "kids" to buy for. I say kids loosely as some of our neices and nephews are over 18 and have kids/stepkids of their own. I managed to find a present for everyone, the kids wrapped them Saturday morning. I figure we brought over 60 presents. As usual there was tons of food, drinks and good times. The kids always enjoy getting together and just hanging out. It rarely happens nowadays.
We got home from BIL's between 11:30 and midnight. By the time the kids were in their rooms and I nursed Danielle to sleep it was after 1. I knew I was running low on paper so had to wrap everything that was going to my parents first. (figured I had enough wrapped for under the tree that newspaper wrapped presents wouldn't be so noticeable under there). It was after 3 when I finished wrapping them.
Now I could start on the pile for the morning. Danielle woke up and Tom snuggled with her and eventually took her into bed with him. I had bought a bunch of glittery lingerie boxes at the dollar store so took advantage of them. All the clothes I was giving were put in that and taped shut...no wrapping needed. I think I'd STILL be wrapping if I had to wrap those too ;o) Sometime around 4ish I heard someone up and went to investigate. It was Jake...throwing up! He had the illness I had on Tues and Wed. UGH! At least he made the toilet and was easy to help and get settled back into bed.
We always tell the kids the earliest they can get up. Usually it's 6am or 7am. This year we compromised and made it 6:30. I finally got as much wrapped as I needed to (there were a few odds and ends I could've wrapped but didn't) at 6! I still had stockings to fill and had to get the presents under the tree. As I started hauling out things I'd wrapped earlier in the week out of our bedroom, Tom woke up and helped. There was no time for organizing things and making sure their main present was in the back...saving it for last. I just threw them under the tree. The pile was HUGE! I realized part of it was that I put everyone's clothes into boxes this year. Usually I just roll everything into a ball and then wrap. Part of it was that I'd hit a great sale at the outlet mall (things for $.94 - $2.94) so bought a good amount of clothes. Just as we were making the pot of coffee....6:30 hit and we heard tons of feet...ok...only 22...coming down the hall. (Allison spent the night so she could experience a "real" Christmas, according to Drew)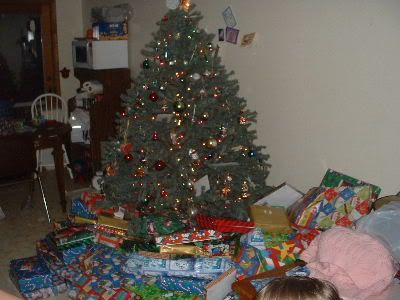 Things were feverishly unwrapped for almost 2hrs! I thought I did pretty well until I heard Jake in the bathroom crying. He was upset because he wanted a game for his Gameboy and got a bike (Luke had gotten a game for his big thing). I felt bad and told him he could take the bike back and get one if he wanted to. I knew he wasn't feeling well and was tired so didn't take offense to his being unappreciative. I also knew that he was getting a game from my mom in a few hours. :o) The bike stays.
I managed to take a 2 or 3 hour nap after opening presents so was good to go for the rest of the day. This left me with no time to make my pasta salad. Luckily it would've been extra for our meals so wasn't missed. We left for my parent's house about 1:30. Just a little past the 1:00 I'd hoped to leave by. We had another nice time with family....everyone behaved. lol I warned everyone that Jake was sick and to keep away from him. He mostly drank soda all day. He started with a little food near the end of the night. I hope no one else gets it. I got the one present I always was jealous of everyone else getting. A MASSAGE!!!! I've never had one. My dad let me know which of the ladies there is great giving a deep massage. YEAH! No one around here can seem to get hard/deep enough for my liking. I hope it helps, since my lower back has been killing me for a few weeks now.
My sister took Liz, Carrie and Eileen home with her. I was a bit nervous about it. Not because of Carrie's diabetes...my sister was on insulin during a few of her pregnancies. It's because last time this happened after Christmas, Carrie was brought home early. She had meningitis and ended up in the hospital for 3wks. Tom and I stayed for a bit longer after everyone else left. The day ended with me the recliner checking emails (I LOVE my new wireless keyboard) at midnight and falling asleep in the middle of reading.