I have over 20 pictures to share so I'm breaking the trip up into a few posts.
As it usually goes I left too much to do until the end. I was forced into bed at 4am when Sean started crying for me. There was lots of discussion about what time to leave. Opinions ran anywhere from 6 - 10am. Knowing that people would want to shower before we left I thought getting out the door at 10 would be doing well. We rolled out of bed somewhere between 7:30 and 8 and we were pulling out of the driveway by 10:30...not too shabby.
On our way....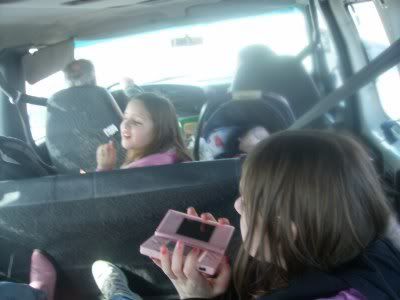 We got to our hotel about 1:40. Our hotel rooms (we had 3 of them) were ready. We went up, settled in and had lunch. Here's the view from our rooms...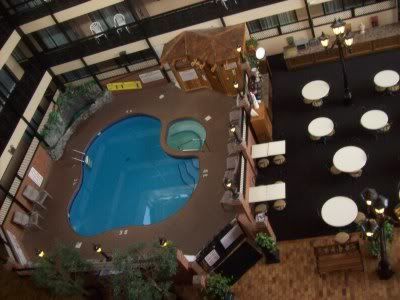 The pool wasn't too big but with the waterpark package it didn't matter so much. On the 2nd night a little boy walking along the hot tub seats knocked Danielle into the tub and underwater. When I realized that she wasn't suppose to be underwater I grabbed her arm and pulled her out, sputtering and crying. She was ok but scared. I took her into the sauna to keep warm while I dried her off for the night.
After everyone had enough lunch we headed across the street to the waterpark. This picture was taken on the way OUT of the park, but oh well. The park's built on the roof of the casino's hotel. That hooded figure is Allison.
Next post is the waterpark.