We bundled everyone up and headed out to view the town. Our hotel was in the Clifton Hill area which is very touristy with tons of lights and attractions. This is a picture Carrie took of the Skywheel and some shops.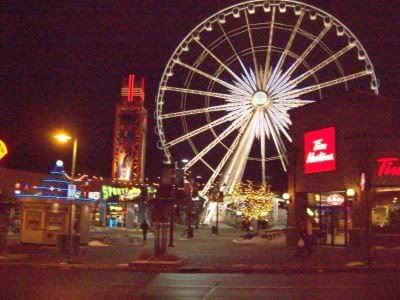 We walked down to the bottom of the hill. This brought us to the Niagara River facing the American falls in it's lit up splendor.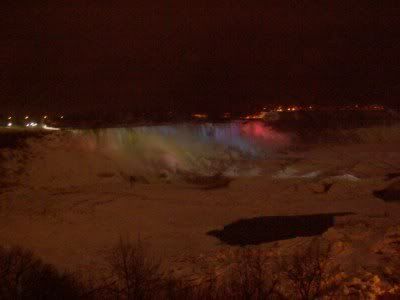 Walking back UP the hill was a killer. Sean weighs a ton! I had him wrapped inside my coat with me to keep him warm (I was wishing I had a sling about then). Danielle rode in the stroller. After buying some fudge Tom and I decided to take the little kids back to the hotel and take them swimming before bed. The older kids decided to explore a bit more. One of the places they visited was the Hershey store. The storefront is a huge Hershey bar. Here's Carl and Val fooling around with a Hershey Kiss...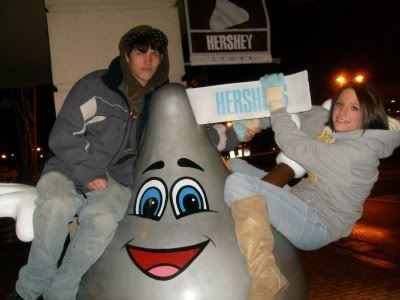 And Michelle getting a pet from him....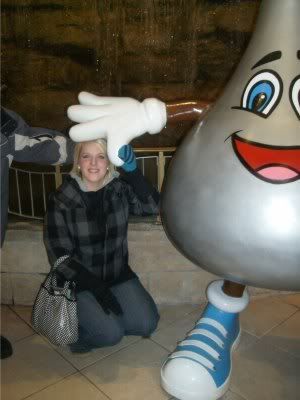 The last morning we checked out at 11. Drew had to give the van a jumpstart since the back door hadn't shut all the way (latch is touchy). The inside lights being on for 2 days killed the battery. We got the van going and headed down the Horseshoe Falls parking area. Here's the beauty before it was shattered...
The river/rapids above the falls...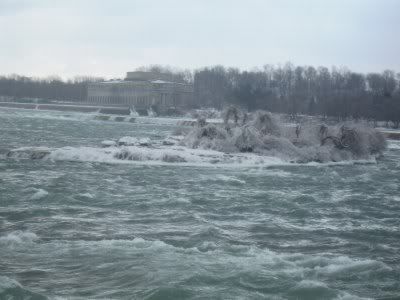 The brink of the falls...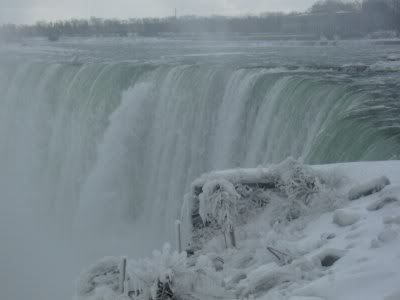 Everything gets covered in ice because of the mist....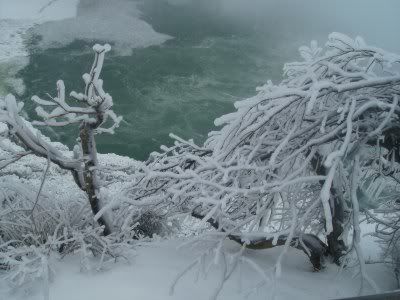 The only picture I could find of Jake (includes Eileen and half of Tom lol)...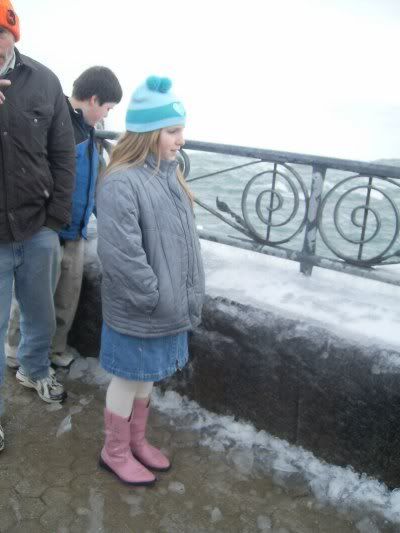 Here's a picture of both falls on the way out of town (American side to the left, Canadian side in the center)...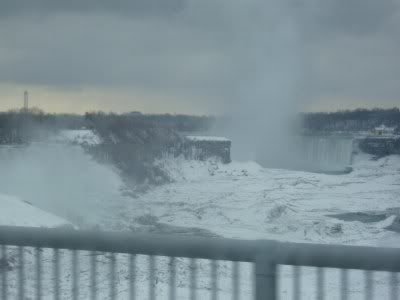 And everyone exhausted on the way home...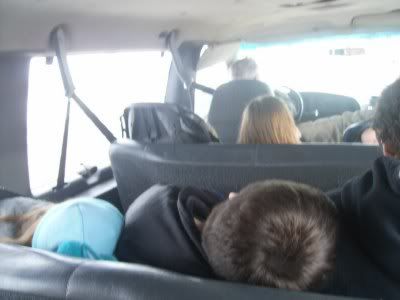 Since we didn't end up spending any money (besides buying the fudge) we decided we'd order Pizza and wings and pick them up on the way through the village. It was GREAT not having to make dinner! When we pulled into the driveway we found something attached to our storm door. It was a HUGE green and gold ALOHA sign. We're not sure where it came from but was hilarious to come home to.
The really neat thing....on the way home from dropping Carl off Val says to me...that was the BEST vacation I've ever had. Considering what she'd been through that day and she'd been on Carrie's Make a Wish trip to Florida/Orlando for 10 days....that's an awesome statement. Money well spent IMO.
For those accessing my blog from this post directly...check out my other Niagara Falls posts and pictures...
Fallsview Waterpark...#2
Now Onto the Fun Stuff...#1
Thanks for linking to me
Access Niagara