It's been so long since I logged into blogger that I had to sign back in. I haven't had to do that in forever. Even when I don't post for a while, I usually ATTEMPT to and therefore log into my dashboard. Not this time...
Trying to get ready for Christmas here. As I say every year, it's going to be different. Things are tight, blah blah blah. I'm sure that's how the kids hear it since it seems somehow I manage to put a bunch of stuff under the tree. This year, they might be surprised. Yes, I managed to get things again but it's not the big ticket items they've come to expect. And as I do every year, I have to fight the thought that I don't have enough. That I've shorted someone. I know that no matter how much I buy...those thoughts will still be there. Thing is, as of right now...I am short. I have NOTHING for Liz. It doesn't help that she doesn't have a list so to speak. I mean she knows I'm not going to get her a laptop. And then there's the ticket to Norway in the summer...not in the budget sweetie. Oh wait, I did buy her something last night...so I have one thing. PHEW! lol
I've set myself up for exhaustion. The kids have drawn names for each other, a secret santa. As of right now we're planning on having a party on the 28th so they can exchange them. Although I've heard mention of just doing it on Christmas morning after all. Where does my exhaustion fit in here? I decided it would be a good thing for the kids to have some one on one time with me. So I'm taking them shopping individually. Each night that Michelle works I go in early with someone and we shop before picking her up. So far Eileen and Olivia have gone.
As much as I miss being home at night, I know it's a good thing. They LOVE it! Eileen's mouth went a mile a minute the whole time we were out. Olivia is a bit quieter but loved that she had my hand or could hug up to me as we walked...whenever she wanted and for as long as she wanted. As tired as I've been, I was sad to see the time end.
And now it's 24hrs later, Friday morning...
Life got in the way and I ended up abandoning this yesterday. Our family gift came yesterday...a treadmill! I spent most of the afternoon/evening trying to put it together. I finally had to stop and wait for Tom to get home to finish it. I wasn't strong enough to get something essential attached. It's been going nonstop since we finished though. It's set up in our smallest bedroom which will eventually be Danielle and Sean's bedroom. Sean really loves it and we have to watch him like a hawk. He's adorable on it, just walking on and on. He goes on for short bursts quite a few times a day. Last night he slept the soundest then he has in a while...maybe it'll be the solution to his sleep problems.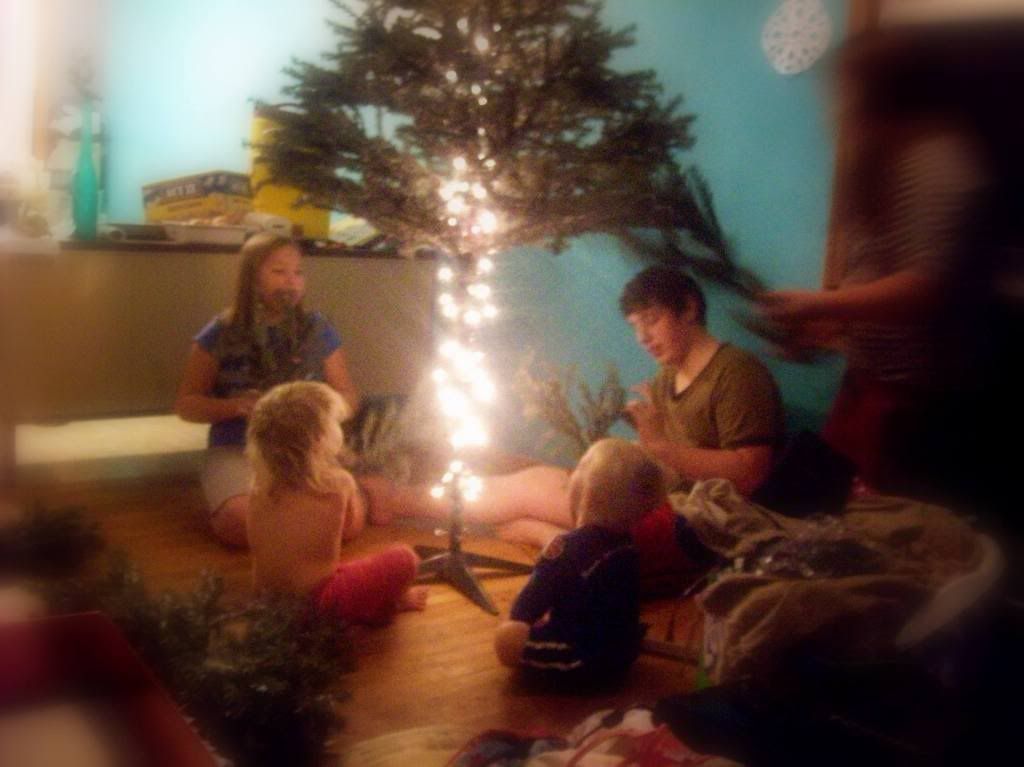 The kids are making sure I get into the Christmas spirit. They dragged up the tree and set it up. I had to get into the action with the colored lights and all my glass ornaments...some of which are over 50 years old. Even I don't like to handle them.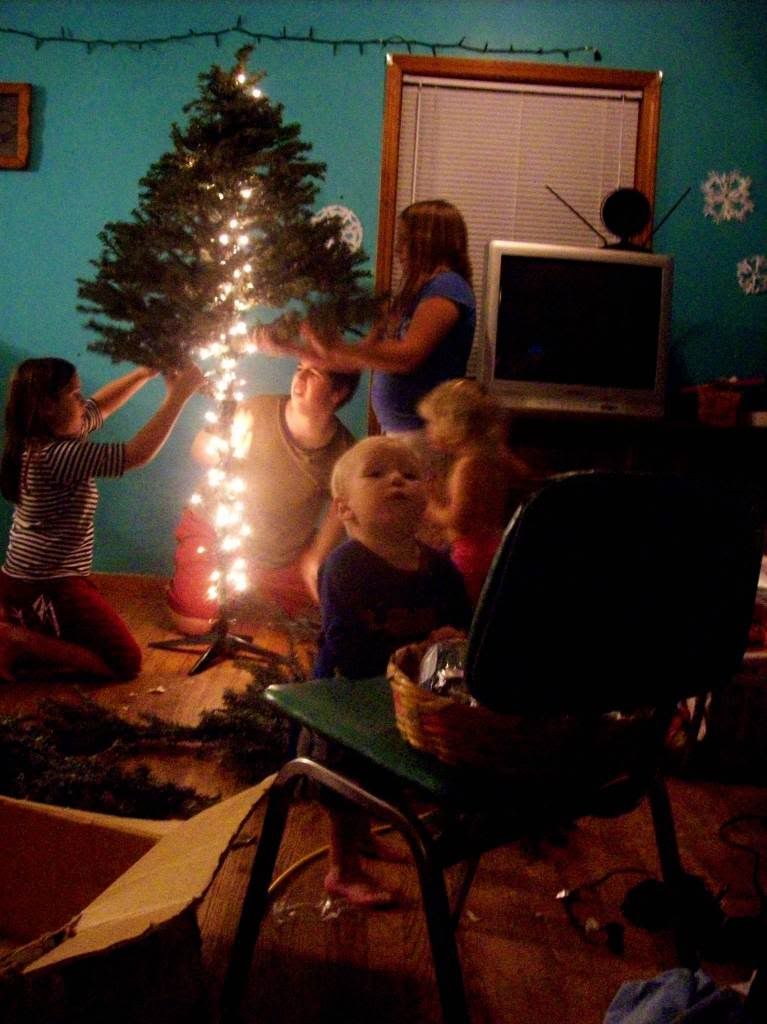 Sean was mesmorized with the whole thing. He's been really good about not touching things. :o)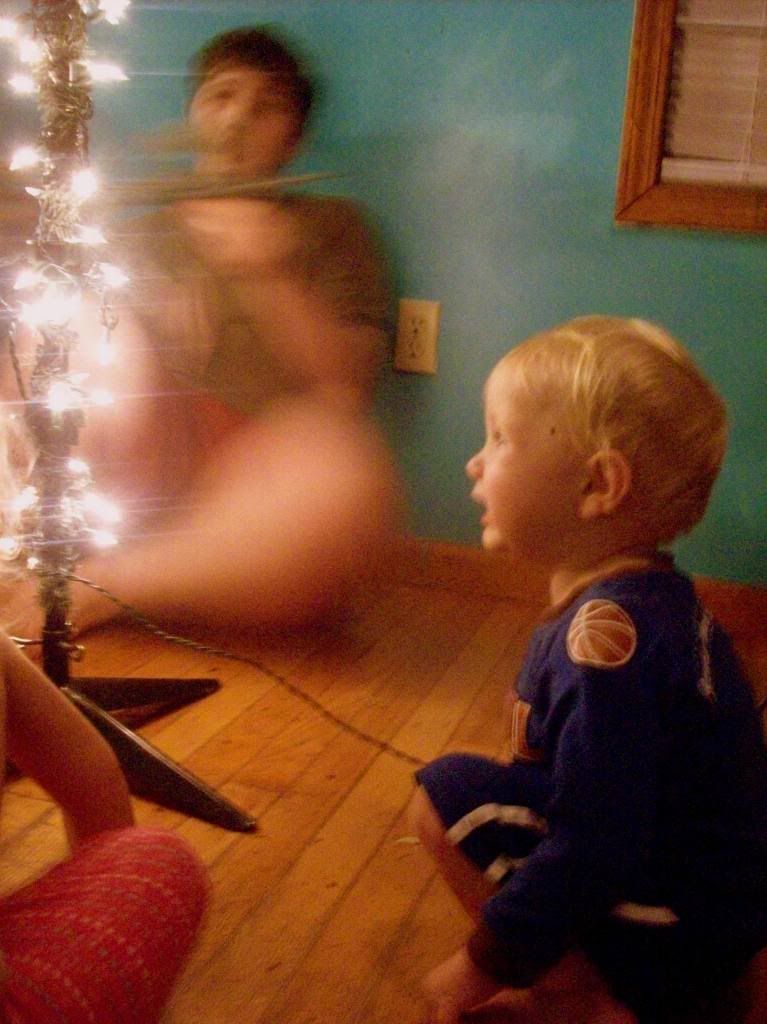 And now....12 hours later again!
Today I had a surprise leisurely day in the city with Della and her oldest Emily. They were stranded there while waiting for some work to be done on their truck. So after taking Michelle to work I picked them up, we ran to a few stores and then had lunch. Just as we finished eating the dealership called to say the work was done. Perfect timing.
While I was out Tom called me and let me know he was bringing home dinner. Seems they had their Christmas party at work and the leftovers were gifted to us. He brought home a TON of food! Salad, a huge pan of ziti (whole steam table pan size), a pan and half of chicken parmesean, pan of Italian sausage with pepper and onions, half a pan of meatballs and sauce, dinner rolls with individual crocks of margarine. All yummy and enough for a few meals. THANK YOU TOM'S WORK!
We got quite a bit of snow today and the poor kids thought they were going to have to miss activity club. We couldn't get car out of the driveway. We had just said...everyone has to stay home when Tom said...let's try one more time...and out they pushed me.
Well I've now had to take 4 turns to get this out. Sean is trying to help me...adding his own version of the story to mine. So I'm done! For now...