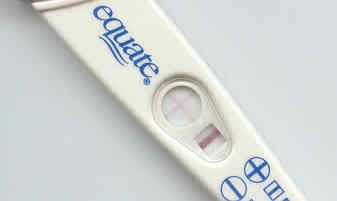 NO! It wasn't used when I bought it. It took all my self control NOT to break the box open and run into the bathroom at Denny's after we finished up shopping. Good girl that I am, waited until I got home to use it.
I'm finding myself a bit reserved with the excitement. I didn't tell the kids right away like I normally do. Although they know tonight. I had the hpt in my skirt pocket and it fell out. Eileen found it before I could and figured it out. Some are excited. Some are reserved. Some asked if this baby can'/will die like the last one, :o( Some older ones wanted to know if I tried to get pg on purpose (not sure why that matters). Others were plugging their ears and singing lalalalala cause THAT is NOT an activity you want to know your parents are participating in. There was talk of the possiblity of me having babies when Drew and Allison do...in a few years. Told them it was my goal in life. lol
My edd looks to be August 2nd. I'll probably deliver 2wks early which puts me around Eileen's birthday...July 16th. She's excited. Says if I don't have it on her birthday, I can have it on Daddy's birthday (July 11th). So a 23mo age gap with Danielle.