Tom had been saying for a few days that we were going away. We didn't know where but we were. Then we weren't. Then we were. There were quite a few factors getting in the way, one of them NOT being Michelle's need to get to work. (Drew agreed to drive her) The State Fair's going on so all hotels in that area were filled. Then the other major cities were booked with college families moving their kids into their dorms. And of course it's still summer and the rates proved it. Did we really want to spend $100 or more for a simple room for 16hrs or so? Was it worth the work to get out the door for only one night? If we were going for 2 nights it'd been a whole different thing.
Tom finally put his foot down and said...We're going! The plan was we'd drive around and see if anything is open. We headed out the door at 3pm, loaded Sean into the backseat and headed up to a northern Walmart to pick up some eats. Then down 104 west we went. We took a few side trips into lakeside towns like Fair Haven and Sodus Point but didn't find anything that was open or appealed to us. At least we were getting a chance to have a conversation without being interrupted (Sean was sleeping)
The further we got away from home the more desperate we became. At one point it seemed we were really desperate when we saw a smaller motel. Tom went in and asked about rates and whether they had a room open. There were rooms open and the rate was only $49. Tom said he was waiting for the manager to ask him if he wanted a nightly rate or hourly rate. LOL As he was coming back to the car we witnessed an older woman fighting with a man, yelling...You got what you wanted!!! I told Tom I'd probably be afraid to let Sean on the floor. So we decided take our chances and move on.
It was almost 7pm, Sean had woken up and was crying. He'd had enough of sitting by himself in the backseat. He wanted OUT! We pulled into a Super 8 Motel in Webster. Tom went in and came right back out...they were full. But the manager gave Tom directions to two other hotels in the area. I sent Tom back in to get the phone numbers. Instead he came out with the news that the Holiday Inn Express had one room open for $143. So back down the street we ran to the HIE only to find out when we got there...the room was gone. :o( Tom asked if there were other places we could try and the lady called another HIE in Greece for us. They had one room left and did we want them to hold it for us? We said yes, got back in the car and headed back down 104 west again. Poor Sean every time we put him back into his carseat he became more and more frustrated. He wanted OUT of there!!!
As we got closer to the HIE we also saw a Comfort Inn a few doors down. We decided to try the Comfort Inn first to see if they had more room choices and cheaper prices. I grabbed Sean out of his seat and nursed him in the car while Tom ran in. He was gone a good bit of time which I assumed was good. I was right! He came back with a room for less money. :o) We got into our room and called the HIE to tell them we weren't taking the room they were holding for us. We were barely in the room when my cell phone rang. I saw it was home and the thoughts came...They are SO in trouble! WHY are they bugging us!?! They know better. Then I answered the phone and heard Eileen's voice. She was noticeably upset...oh crud! What's the matter? Then she let it all out...something got 2 of the chickens! I don't know what to do? I found them...It's gross mommy I almost puked. Awwww! Out of all the kids to have found it, Eileen is the one I'd prefer it not to be. She's a worrywart and easily overcome with anxiety. Having to deal with new or different things can make her feel physically sick. She didn't want me to talk to Michelle because Michelle would be mad at her for calling. But it was so bad mommy...I had to call! I calmed her down and told her it was ok until we got home. That if the chickens were put away for the night (they were) that she didn't have to go back out there anymore and see it. In the morning I found a voicemail from her (not sure how I missed her call) wishing me a good night. It sounded like she had been crying. Talk about being buried in Mother's guilt! UGH!!!!
Anyways, back to our night. Luckily we had gotten things to eat that could be considered a meal because neither one of us was ready to go fight the dinnertime crowds. I certainly didn't want to try to keep Sean in a highchair after he'd been sitting in the car for 5hrs.
Sean was good but he was BUSY! He was intrigued with the phone on the nightstand. It took a good bit of work to get him to ignore it (mostly). His favorite thing to do was to climb up in the chair and watch the awesome view (shopping centers and traffic).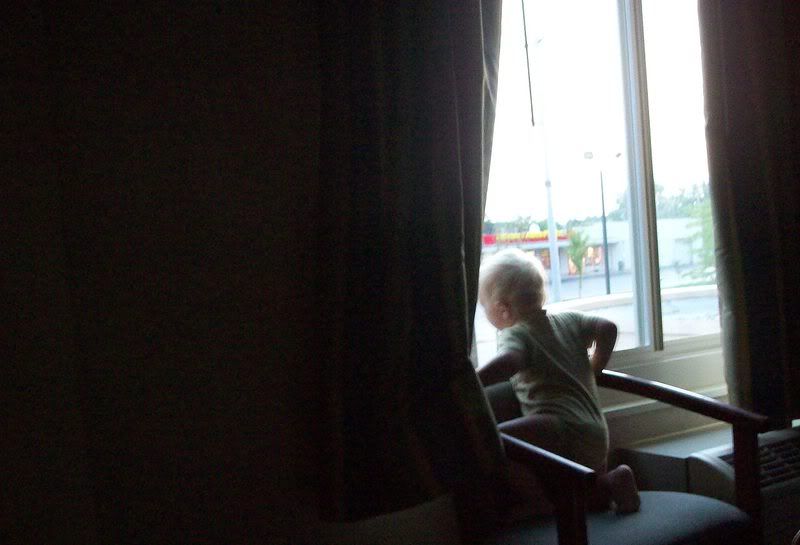 Him being well rested from his extended nap in the car didn't help matters although he did go to bed at a reasonable time. Still we let Sean know...it's the last time he's invited to our nights away! LOL
You'd think...all alone, no kids to bug you...they'd sleep in. WRONG! I fell asleep fairly early and stupid body of mine won't let me sleep for more then 5 or 6 hrs. So I was wide awake by 4:30am! Oh well, sleeping in is highly overrated.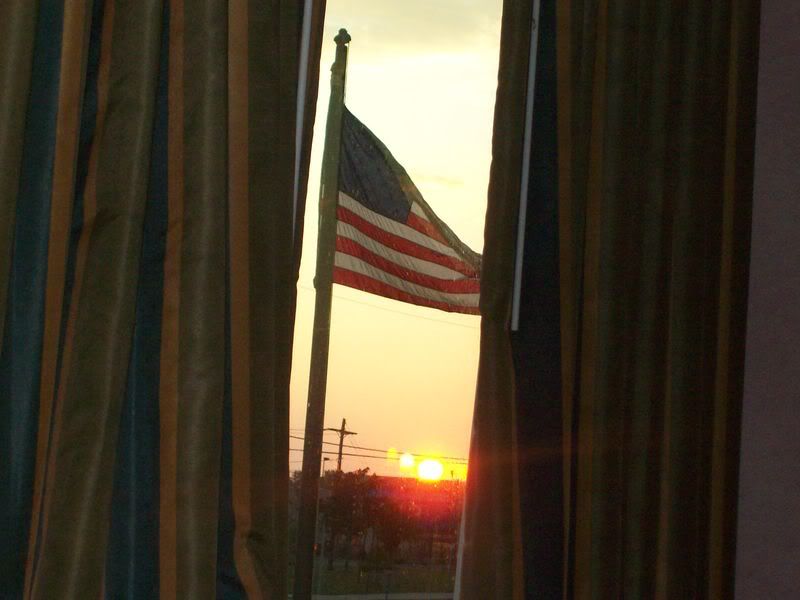 The surprising thing was Tom was also up bright and early (he's a sleeper and would've slept all day). I guess it wasn't so surprising seeing as Sean was banging on his head for quite some time before he actually got up. We had a relaxing morning and enjoyed the complimentary continental breakfast the hotel provided. Then it was back into the car. Sean wasn't too happy to be stuck in his carseat again.
I saw a sign for Palmyra and asked Tom if we could go down there. Knowing people from LOK and TOK who are Mormons I knew that Palmyra was a pretty big deal to them. I wanted to go see it so I'd know what they were talking about. Tom being the great husband that he is, agreed to take me there. We missed the turn off for the LDS Visitor Center so ended up at a park in Macedon. It was an aqueduct with a waterfall and mill. Sean got his first ride on a swing. At first he wasn't sure he liked it but eventually I played with him enough that he started laughing.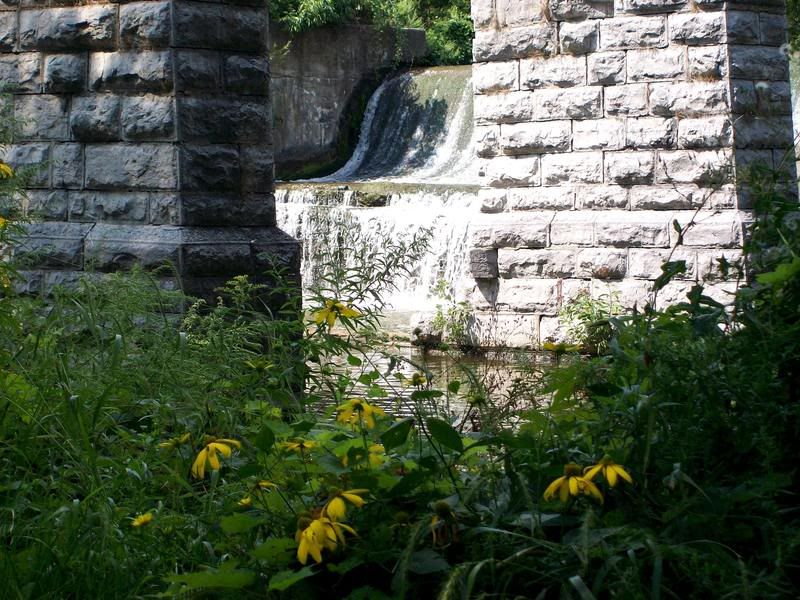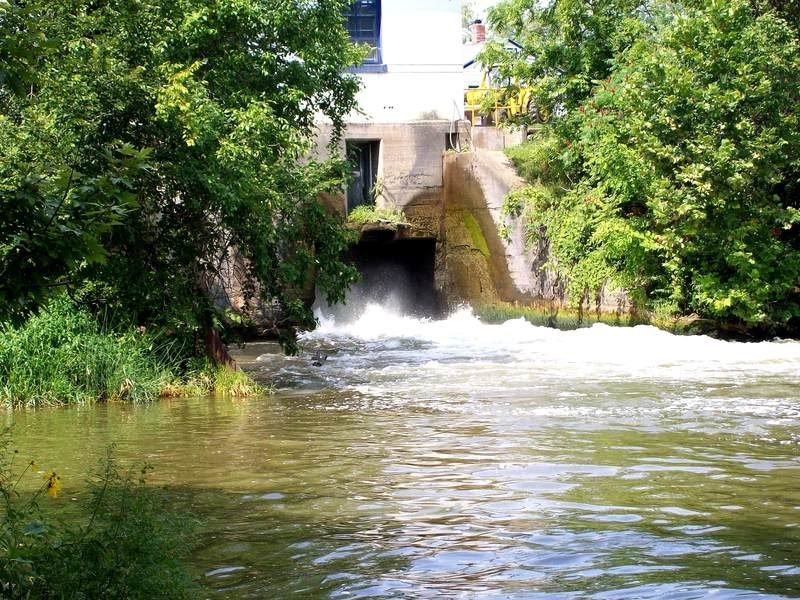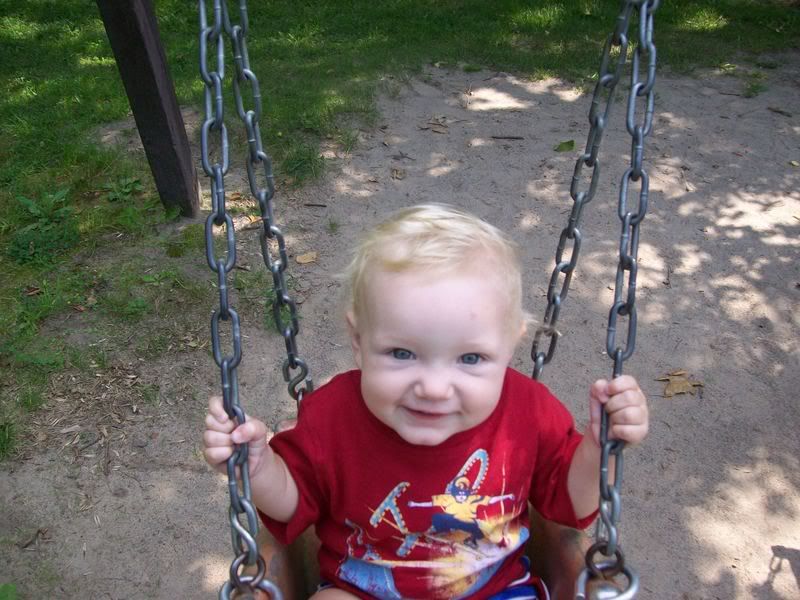 We eventually found the visitor center. We went in, had a tour and heard the story of the founding of the Mormon church. I had to take Sean out of the room during the Q&A session because he was fussing. We explored the resource room for a few minutes and then headed back on the road. We got another call from Eileen. Another chicken was dead and the wild mother cat was seen eating her. Whether the cat killed her or found her is something yet to be determined.
Finally Sean had had enough of his carseat and he let everyone know it! I climbed into the back seat, faced backwards, leaned over Sean's carseat and nursed him until he fell asleep. For a little while. Let's just say as much as I was wishing Tom and I could stay out a little while longer...I was VERY glad to be pulling back into our driveway.
The gladness didn't last long as reality came back and bit me hard. 1.5hrs later I was back in the car going to pickup Michelle from work. (we let Drew off the hook since we were already on our way home) Then I dropped off Michelle, picked up Carrie and headed to my sister's house. We exchanged Carrie for my sister's youngest until Tues night. I was SO tired on the way to my sister's that I was worried about the drive home. Sean was sleeping in his carseat so I sat in the car while the girls did what they had to do before leaving again. I told my neice...I'm going to rest for a few minutes. Well I went conked right out! To the point of having a dream. Next thing I know I hear my sister calling me. OOPS! I guess I rested a bit too deeply. lol Thing is, it did me a world of wonder! I felt like a new person driving home. Still once I was home it wasn't too long before I was grabbing Sean and jumping into bed for the night. And of course my stupid body had me awake for the day at 4:30am yet again.