PHEW! I'm tired! I left the conference early last night because the little ones (and me) were so worn out. Poor Sean ended up coming down with a runny nose and didn't sleep well at all. (He's sleeping in my arms as I type)
As usual we were late getting out the door on Saturday. There really wasn't anything I needed to be at church for so there was no pressing deadline. I had taken Liz and a few of the older kids over in the morning so they were where they needed to be. I was shooting for 2 and we left at 5. Since I didn't have a campsite to act as a central point I used the snack bar/grill as my main stomping ground. The grill/snack bar is a pretty cool place. Our local fellowship runs it 3 times a day...lunch, dinner and late night snack bar. We sell burgers, cheeseburgers, grilled chicken sandwiches, hotdogs, corn on the cob and salt potatoes. Everyday there is usually something different added like pulled pork or italian sausage with peppers and onions. The snack bar serves burgers and dogs but adds in nachos, rootbeer floats, large pretzels and such. It's a great service for those that are traveling to the conference (don't need to pack a lot of perishables). It's also the perfect place to camp out at since a lot of people come by there. That makes for a lot of opportunities to have fellowship.
Danielle and her cousin Charlotte being cute...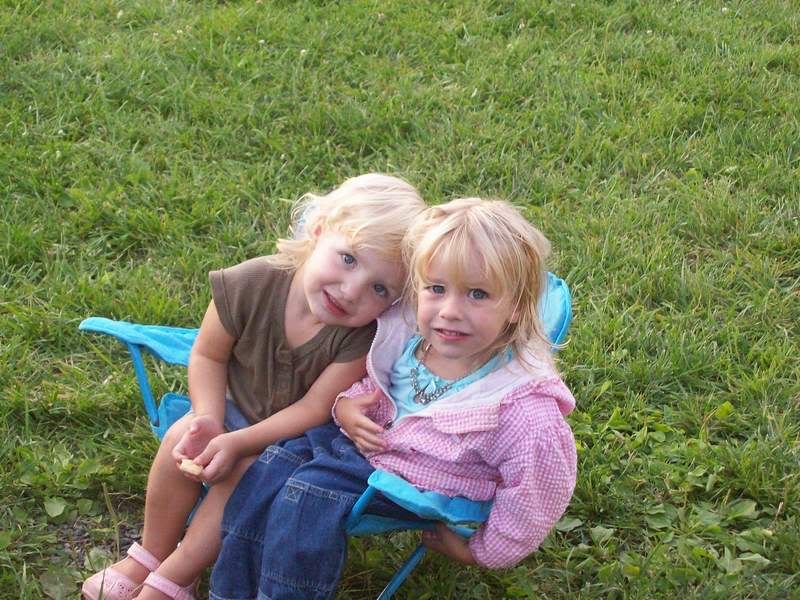 My nieces playing with their cousin/sister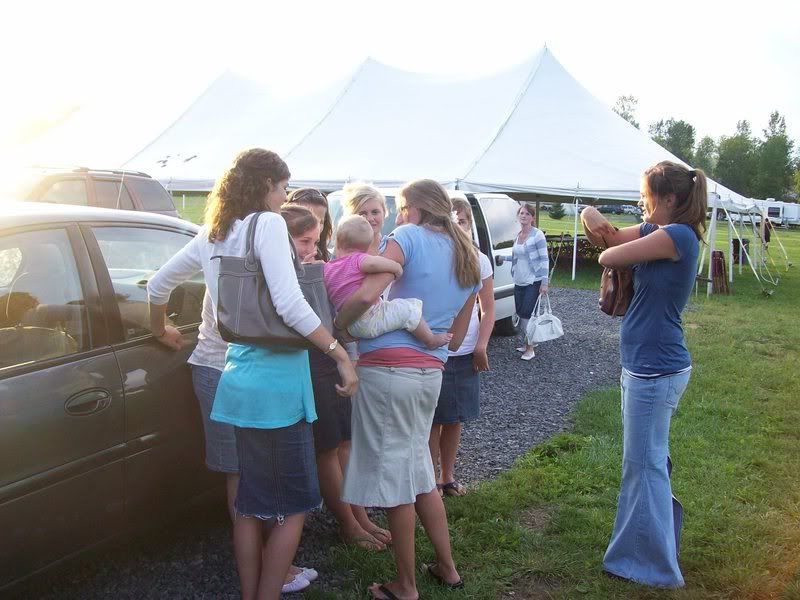 Sunday
Sunday started the official meetings and activities. We started bright and early with all the kids parading around the conference center and then into the meeting hall for a children's meeting and a play.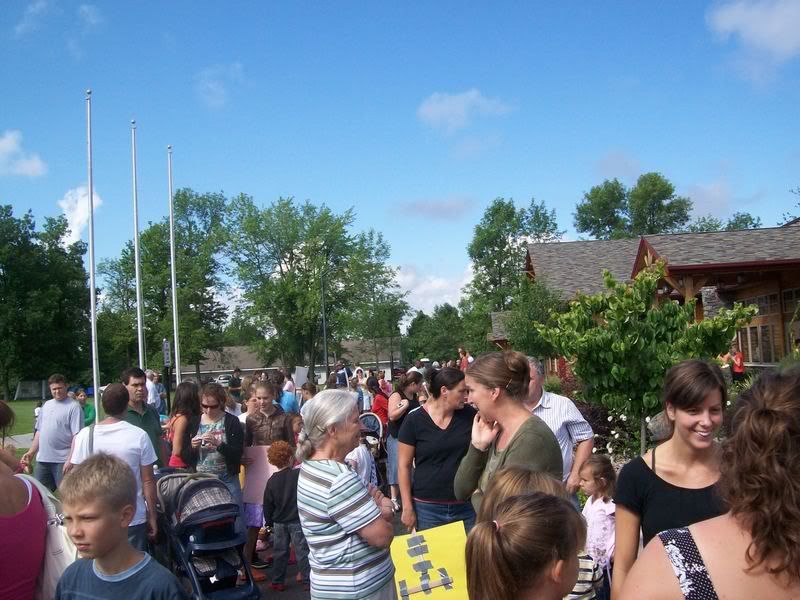 After lunch we went back into the meeting hall for some skits and a concert.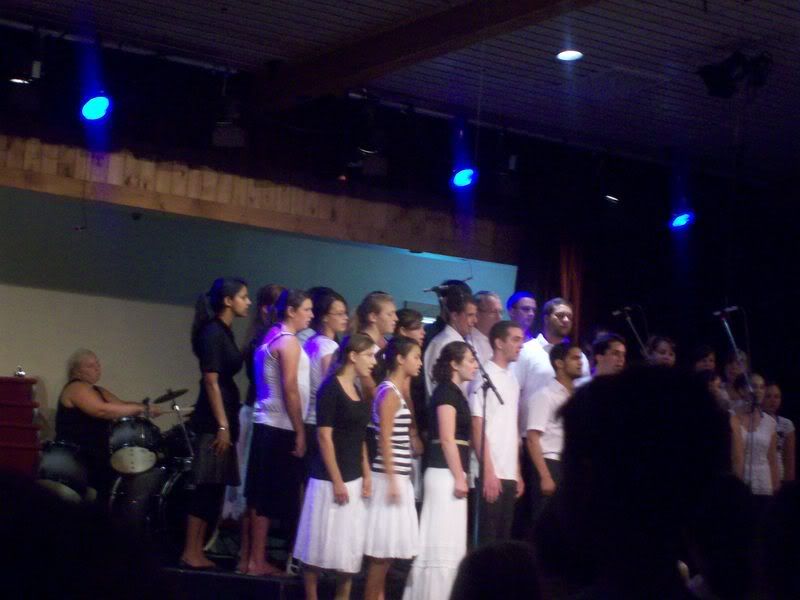 The kids played on the playground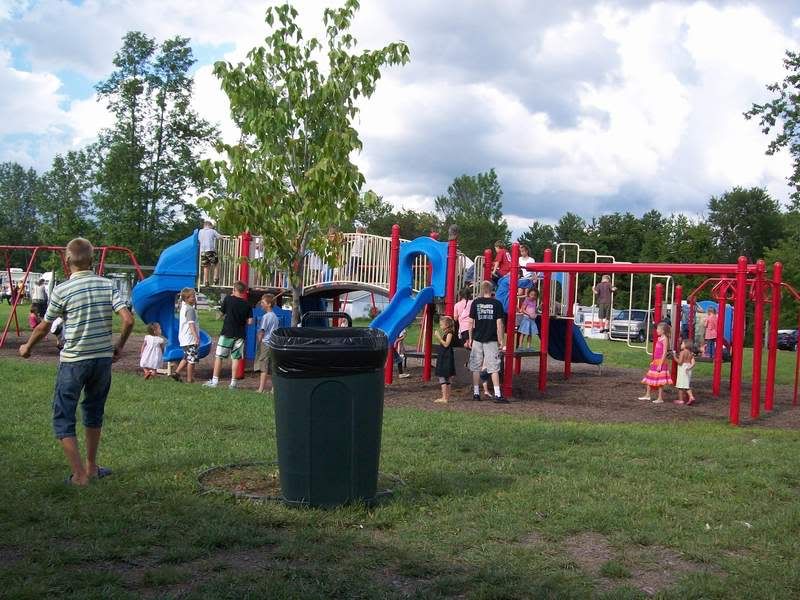 Visited the candy store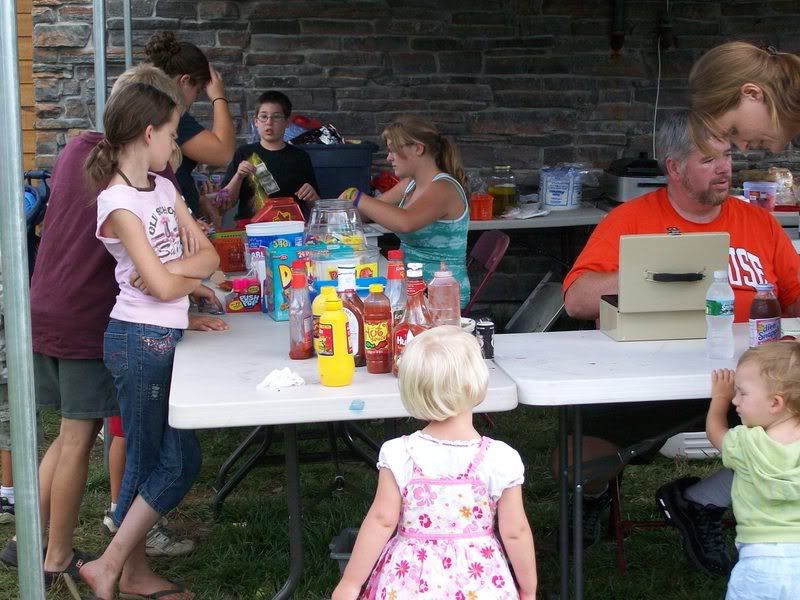 Had a few sno cones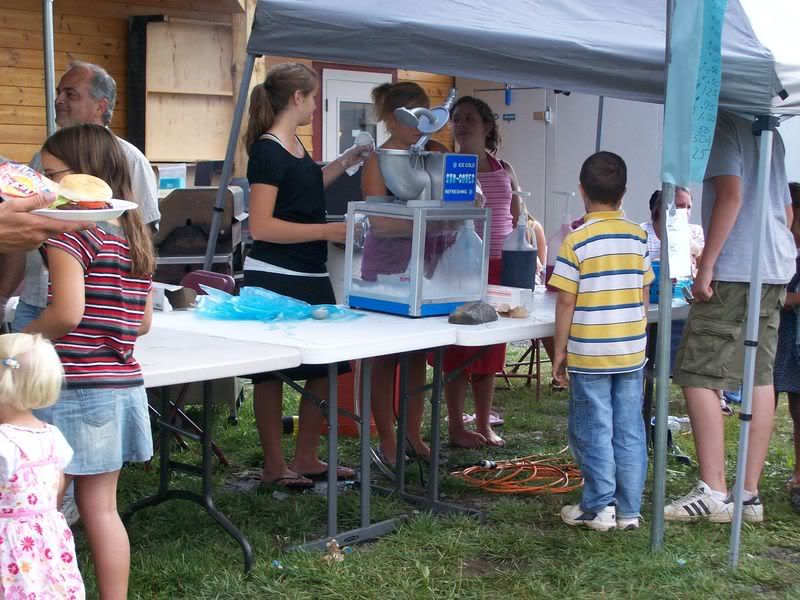 They had a "old timers" softball game in the afternoon which resulted in old of the ladies visiting the ER. She went to field a grounder and dislocated her finger so bad the joint broke through the skin OUCH! I talked to her the next day and she's doing well.
Monday
Monday we were slow getting out the door. There were some things I needed to do at home. We missed the children's meeting but got there in time for lunch. It was also when the inflatables were setup including a huge waterslide. (didn't get a picture of it) Unfortunately it was the chilliest day of the year and not geared toward getting too wet.
Large bouncy house, joust pit, bungy run game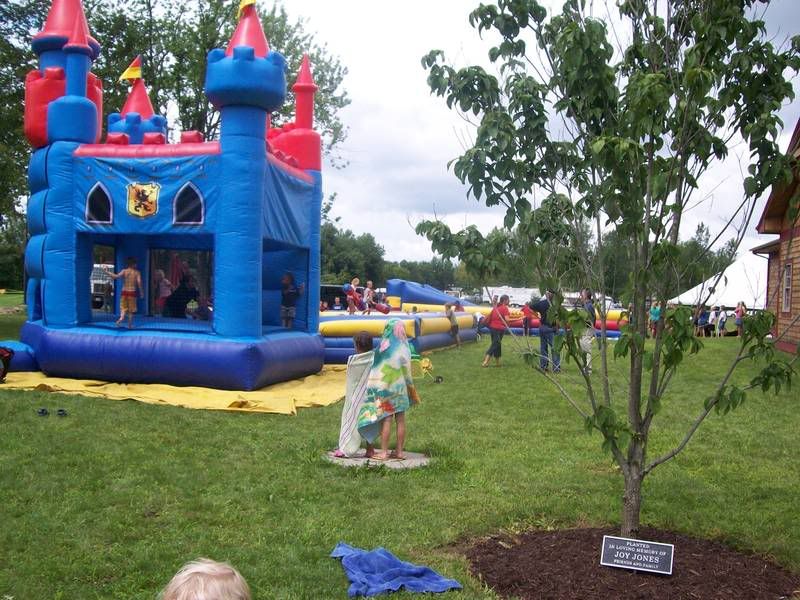 Small bouncy house and dino obstacle course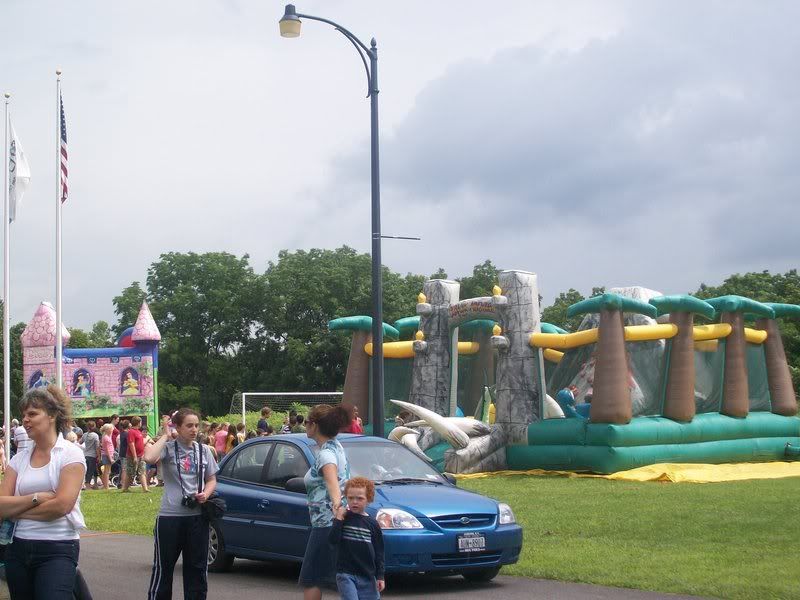 Eileen with Charlotte and Danielle in the bouncy house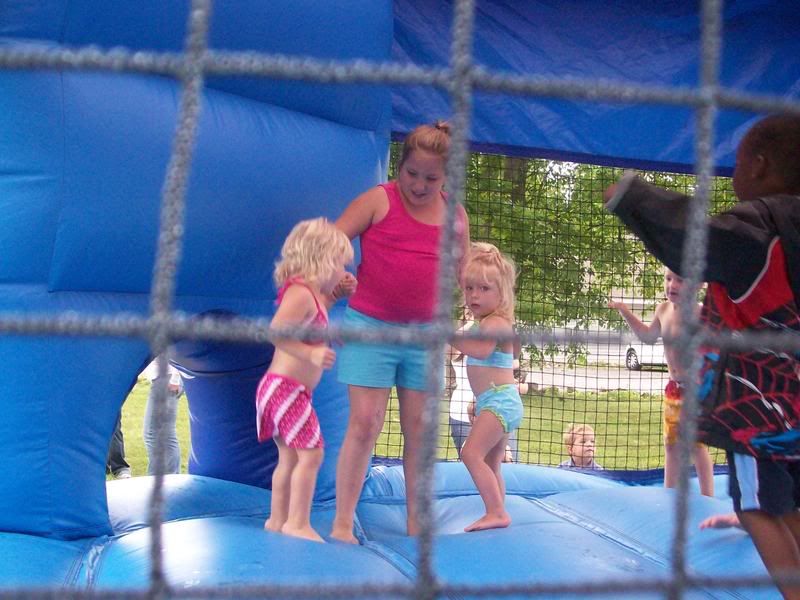 Best friends...Eileen, Kathryn, and Jonny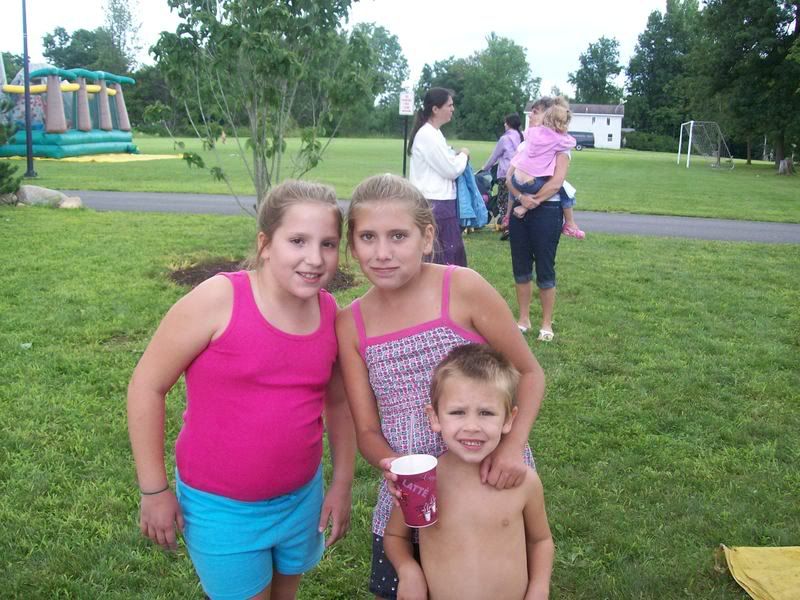 The girls running the bungy game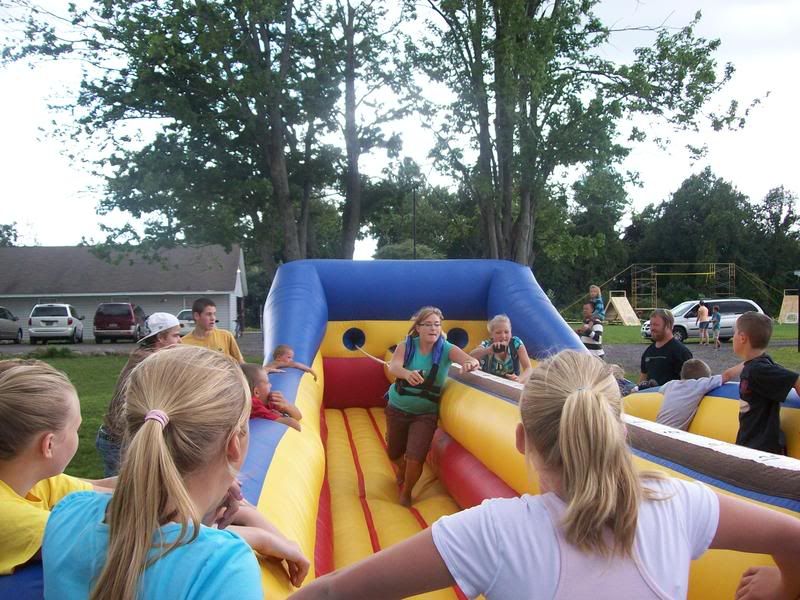 For the older kids it was the Outdoor Challenge. Each fellowship had a team compete. They had 9 stations to travel to all over the grounds. Each station was a challenge. Things like doing a puzzle blindfolded with guidance from your teammates, eating raw clams, porting a canoe in a creek, marksmanship and sawing a log with a 2 man saw, rescue a "hostage" from paintball gunmen, save someone drowning in a pool. Liz helped out in one of our stations. It was setup as a forensic scene with 2 dead vicitims. The teams had to process it and process it properly. Liz the glitch in the process. She was a friend of the victims that was distraught and trying to get to her friends. (and contaminating the scene) She did everything she could to get to them including being physical. I guess it was hilarious (they were way back in the woods so you couldn't watch it). She is covered in bug bites and bruises from the experience. Our team came in 3rd with Conneticut coming in 2nd and Urbana winning. I'm hoping to see and maybe share pictures of it later.
I'll be posting about Tuesday - Children's day separately since it's pretty photo heavy.