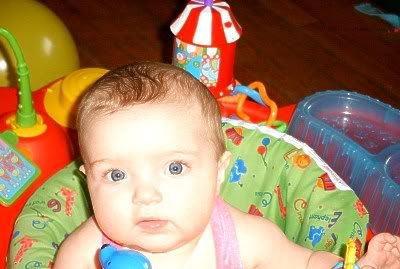 I know I'm WAY behind in posting here. Sorry! To appease everyone I'm sharing my beautiful SIX month old baby in her new exersaucer. Things have been crazy here. I haven't been feeling so well lately and am glad I have a dr appt next Thurs. I think we're in for a bout of chicken pox now, starting with Danielle. My neice who was here during Island Week had them the previous week. Eileen and Olivia haven't had them although I'm pretty sure they've had the vaccination (not that I think that's helpful or a great thing). Carrie's had them pre-transplant, had shingles post transplant and was vaccinated after that. She tested negative for titers to them and was revaccinated...guess I should find out if she's finally tested positive yet.
We started Birthday week on the 2nd with Luke's 13th birthday.
Luke's birth story
I think he'll be having friends over on the 17th (no school that day). He wanted Chinese so I made fried chicken wings, sesame chicken, bay scallops, lo mein (glorified spaghetti), fried frozen egg rolls, chocolate and vanilla pudding. Before bed we had strawberry shortcake. Tom bought him a few things from the dollar store and I got him a Knex rollercoaster set with motorized lift. Olivia's 6th birthday is Monday and I think she wants Chicken wings and pizza....along with strawberry shortcake again. lol Val's 16th birthday is next Thursday on the 9th. She's asking to go to rock and roll bowling with a bunch of her friends and then have them sleep over next weekend. Nothing definite though.
MIL finally was released from the hospital on Tues. Then FIL was admitted on Wed. Tom spent the day up there with him, he should be released on Friday.
Carrie has a lesson for the TODAY study on Friday. I may cancel if Danielle is looking pox'y. Next week looks BUSY with one or two things scheduled everyday of the week but Wed (not counting church activities which are planned for everynight). Then again, if we do have chicken pox then my schedule will quickly clear since I can't go anywhere without Danielle and no one goes anywhere without me. LOL
I'm hoping to put up some pictures from Island week later.