So where does the time go?
Saturday... Tom was on call for the second week in a row. He had someone relieve him for the evening. He was expecting a couple people over for his birthday but the plans fell through. So we spent a quiet evening out back around a fire, roasting hotdogs.
Sunday was his acutal birthday. He was back on call but it was a quiet day workwise. Being on call though meant I was still stuck driving Michelle and picking her up. Yay me! Otherwise we just hung out, went swimming and had his birthday cake.
Tom had taken Monday off but it wasn't for lounging around. He had to renew his license and run a few errands. It was also Carrie's first day of summer school (Luke's 2nd week) and Michelle had work.
Tuesday my sister brought her youngest, Emily, out to stay for the week. That meant lots of swimming and giggling around here. She kept the kids busy. :o)
Wednesday was running around day. Michelle had her interview at 10:30. All the kids at home (Luke and Carrie were in school) went along.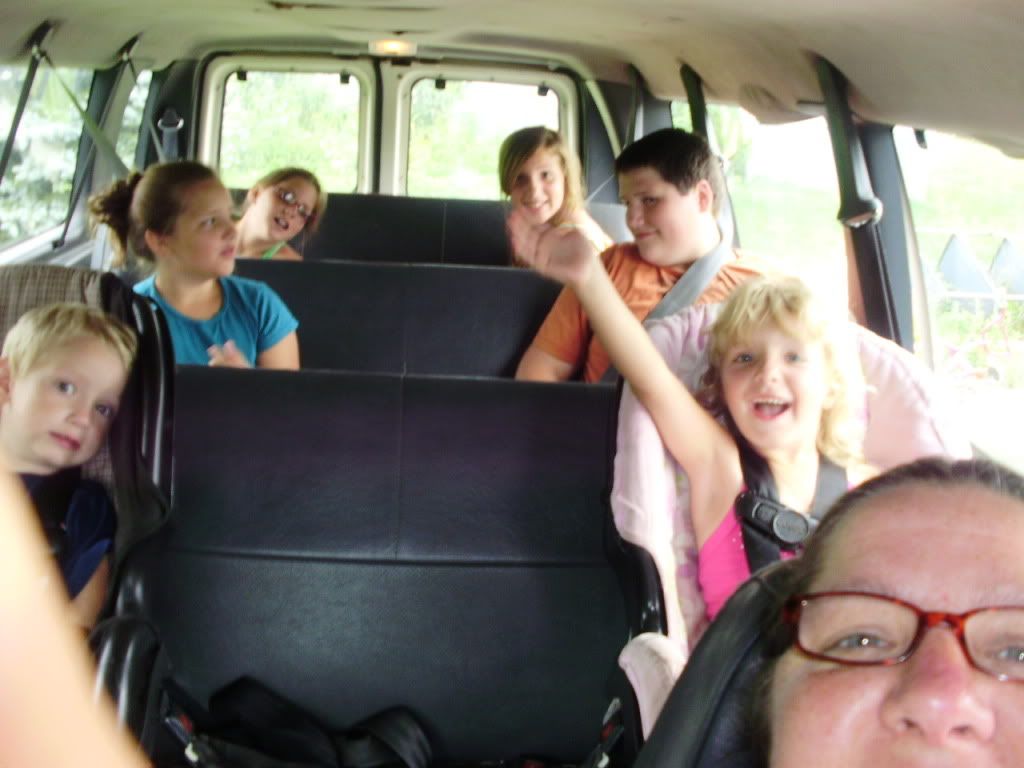 It was next to the mall so we decided to walk around there. She'd walk over and meet up with us when she was done. I hadn't even gotten into a parking spot when she called me. The lady she was doing the interview wasn't due in until 12:30!! So we had 2 hours to kill. I hit a few stores...bought Luke a white shirt he needed to wear when serving at the wedding, found some $2.99 shirts for Danielle and Sean, a few things that were desperately needed at the video game store. (they really were...I swear! One of them is part of Jake's birthday present) We had lunch and then back to the store for Michelle's interview. This time we decided to walk around the store while she was in there. It was a quick interview. I didn't get far and totally forgot what I went in there for until we were headed out the door. So I ran back in while they waited at some tables. It was REALLY hot out and there was no way I was driving any further without drinks for everyone. Besides, our fast food lunch had left us thirsty (stupid salt!)
Thursday was another day of running around....
Kids to summer school, drop Olivia, Eileen and Emily off with Della at her camper and visit for about 30 minutes, picked up the kids from school, got Sean down for a nap and then Michelle to work...picked up a few things there. Back to Della's camper to visit again, quick dinner and swim for about 45mins. Then sang Happy Birthday to Eileen, cupcakes and oreos with milk. We had to be home by 7 because Eileen was having her best friend Mady over for the night. We got home right after Mady was dropped off. Then I was back out the door to pick up Michelle.
Friday...Michelle was off from work and there was no summer school. Unfortunately it didn't mean I could stay home. We had plans, tons and tons of them! First off it was Eileen's 12th birthday!!!!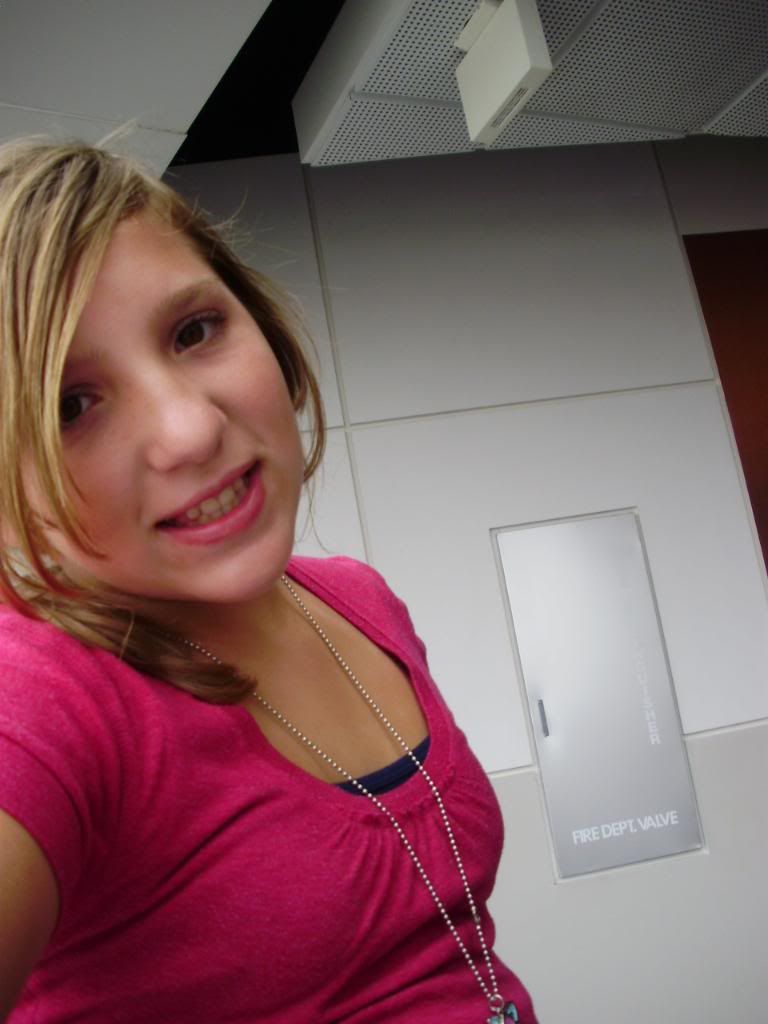 She's a youth in our church now! A very exciting time for a young girl. So we HAD to have fun. I felt bad for my niece Emily. She knew all the plans we'd made but my sister came and picked her up before we left for the day. (they were going camping for the weekend) First on the agenda was to pick up Liz so she could go on our adventure too. Then it was a trip to the airport to drop off Michelle's friend Sarah. She's been living here since the end of June. She's headed to England for 2 weeks. Then she's home again and applying for an expedited visa to move to England.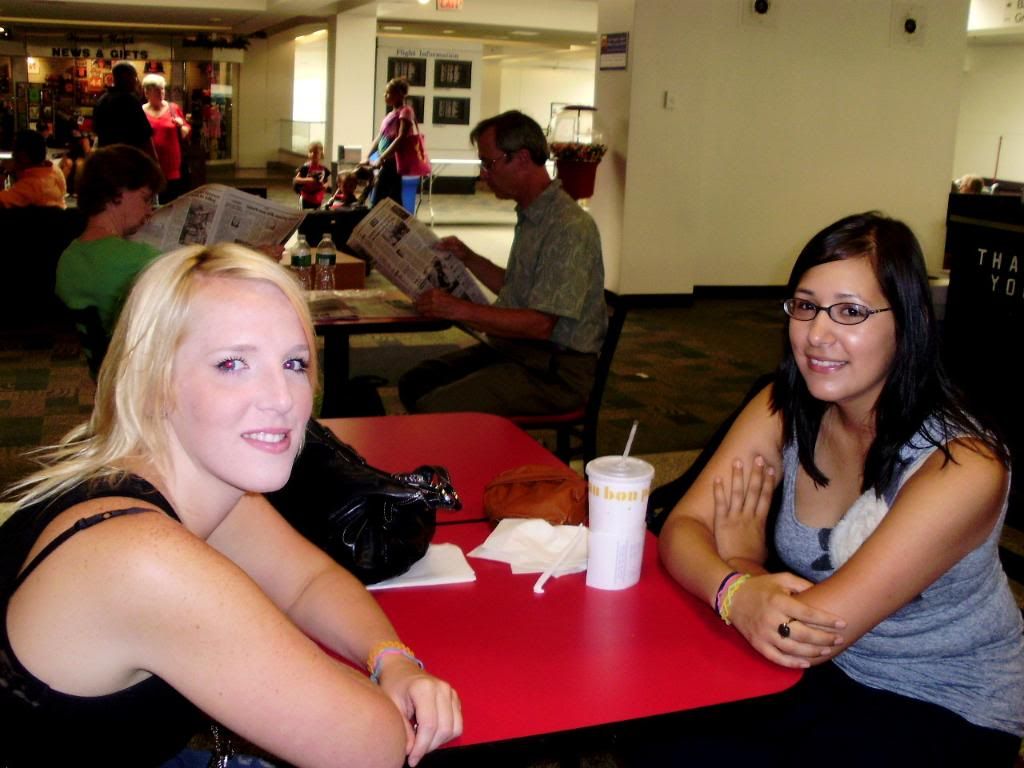 Michelle and Sarah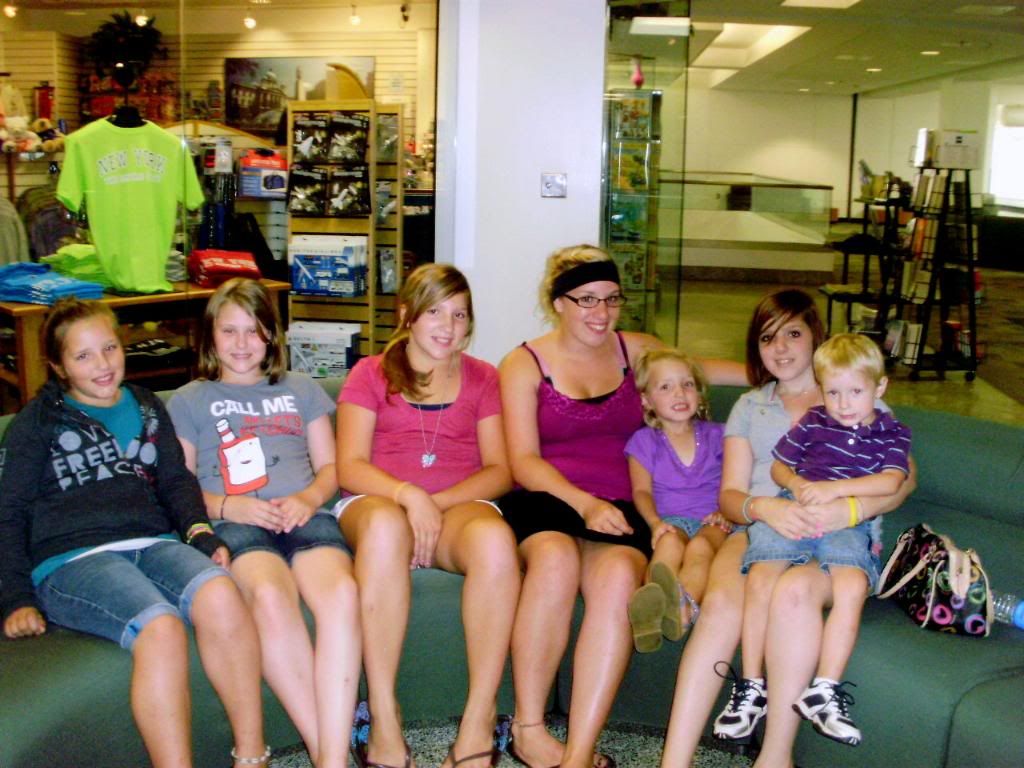 Olivia, Mady, Eileen, Liz, Danielle, Carrie and Sean
While Michelle and Sarah relaxed in the lounge for a while, I took the kids to the kids' area of the airport. They have a small playground, a cockpit to explore, mockup of the control tower and lots of interactive displays. (somehow I lost a bunch of pictures from this time)
Sean and Danielle flying a helicopter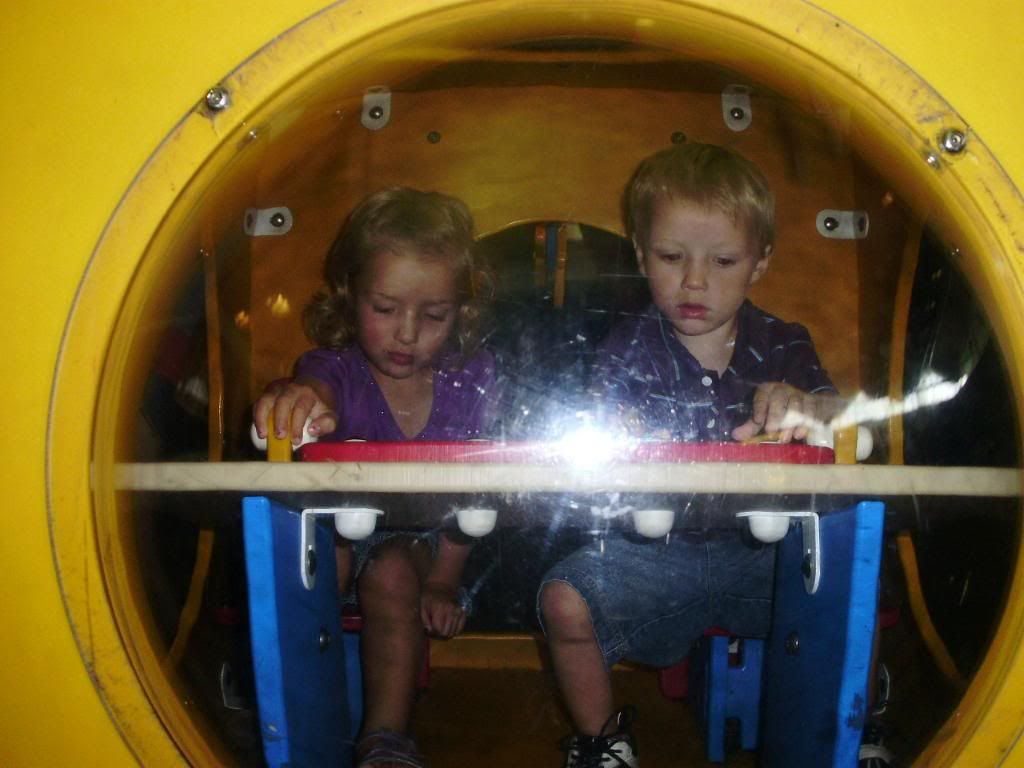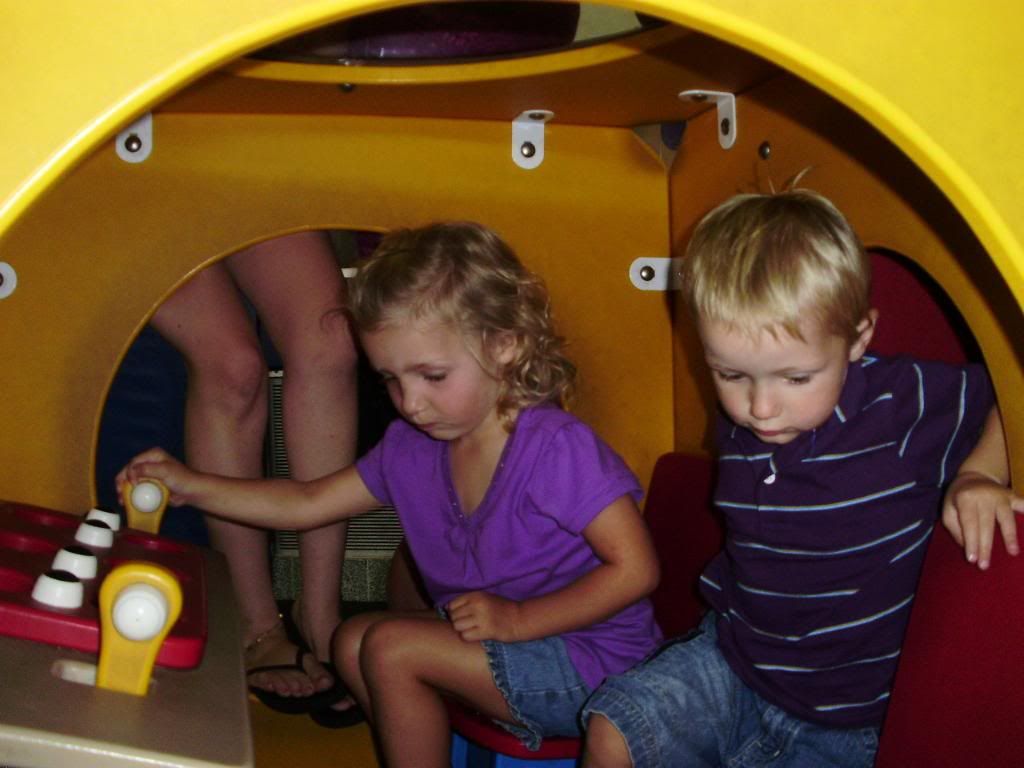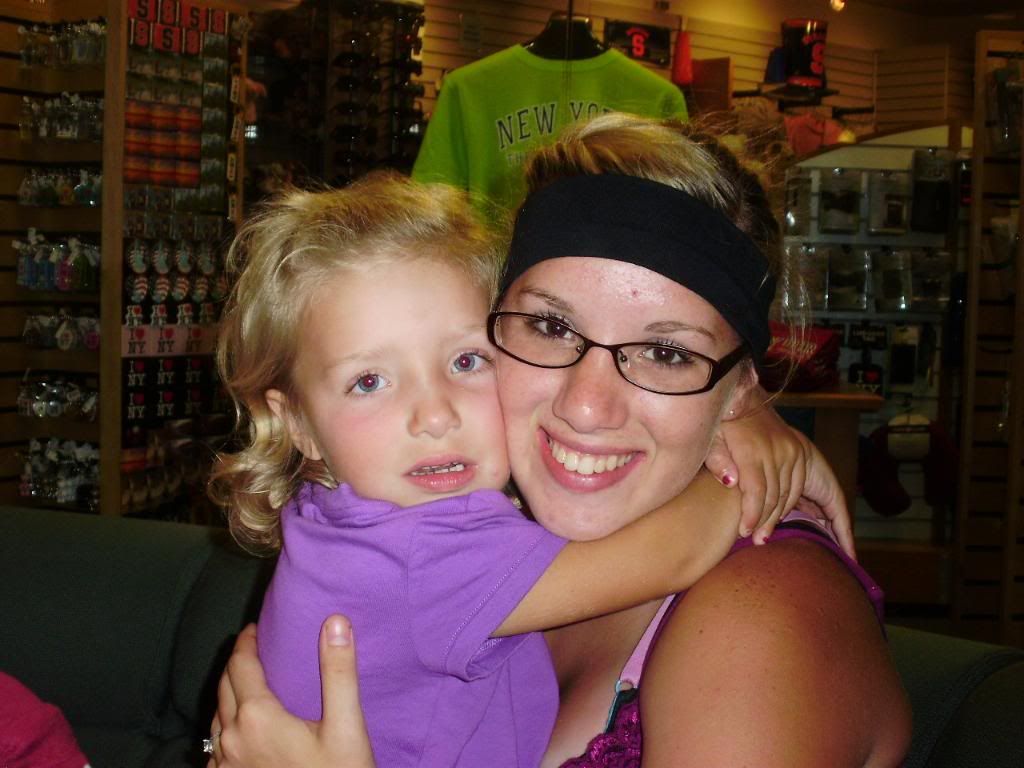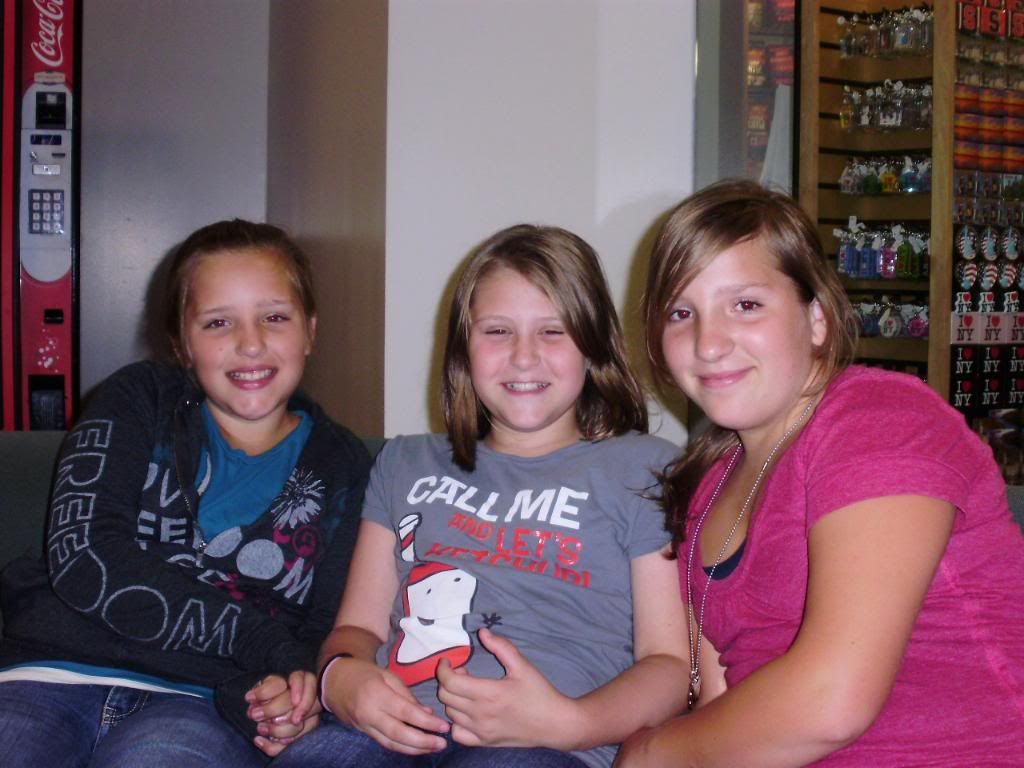 After Sarah was through security we headed out to lunch. We went to a Chinese buffet place my parents' rave about. We weren't disappointed! Sean ate so much that at one point he leaned back in the highchair, threw his head back and exclaimed...my tummy hurts! I tried to take the piece of watermelon covered in whip cream out of his hands while I told him to take a break. He wouldn't let it go...NO! It's yummy!!! And he kept on eating. I was half expecting him to barf at any second.
Can't have Chinese without orange peel smiles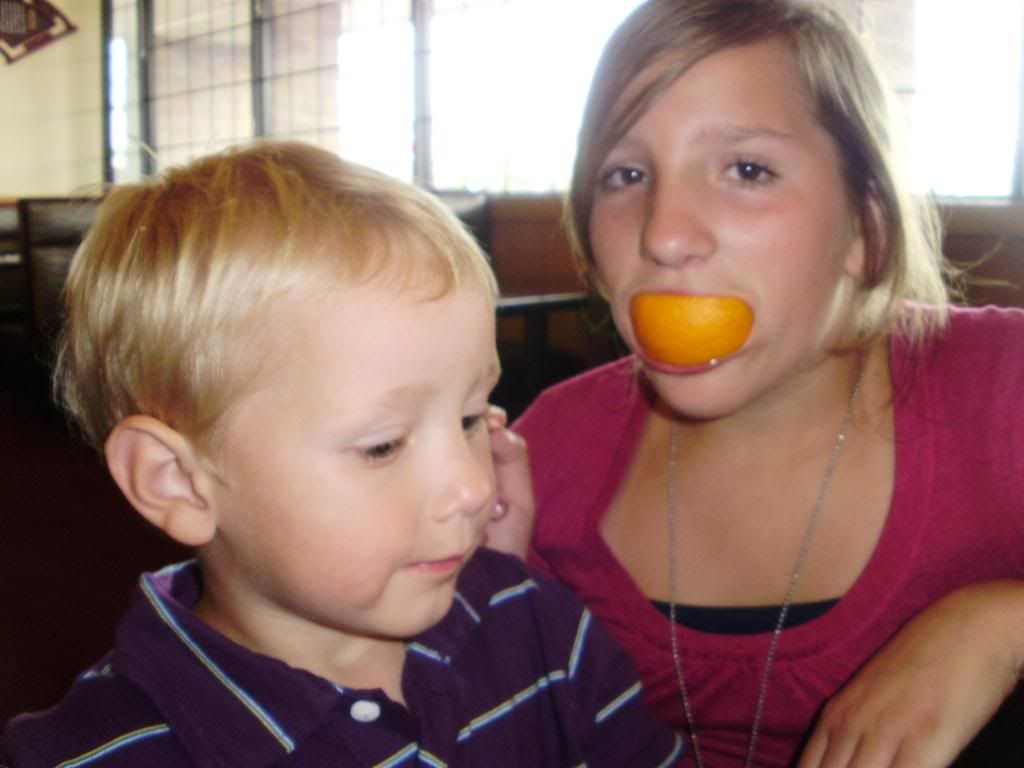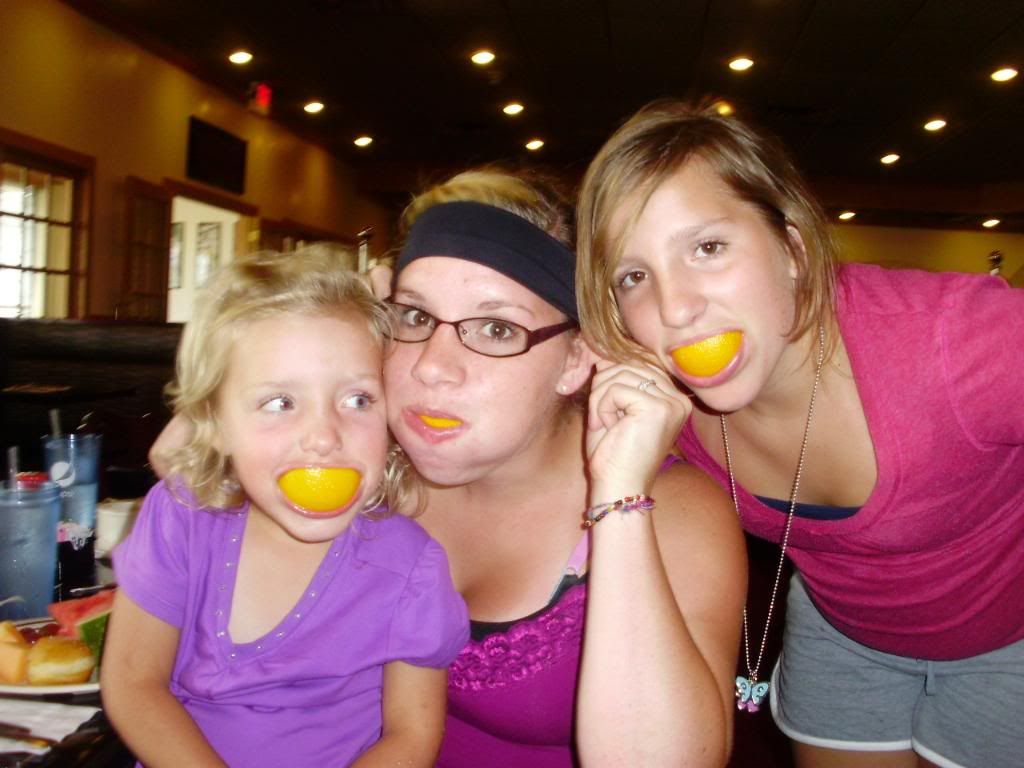 Danielle tried to hide her messy face but Liz wouldn't allow it. lol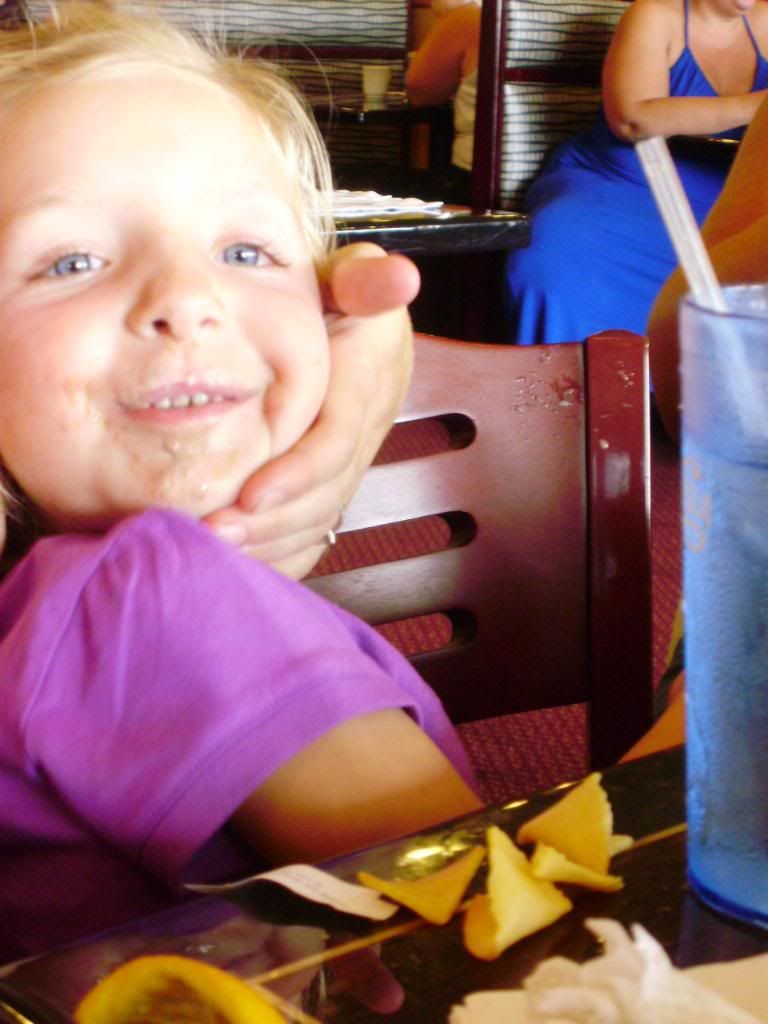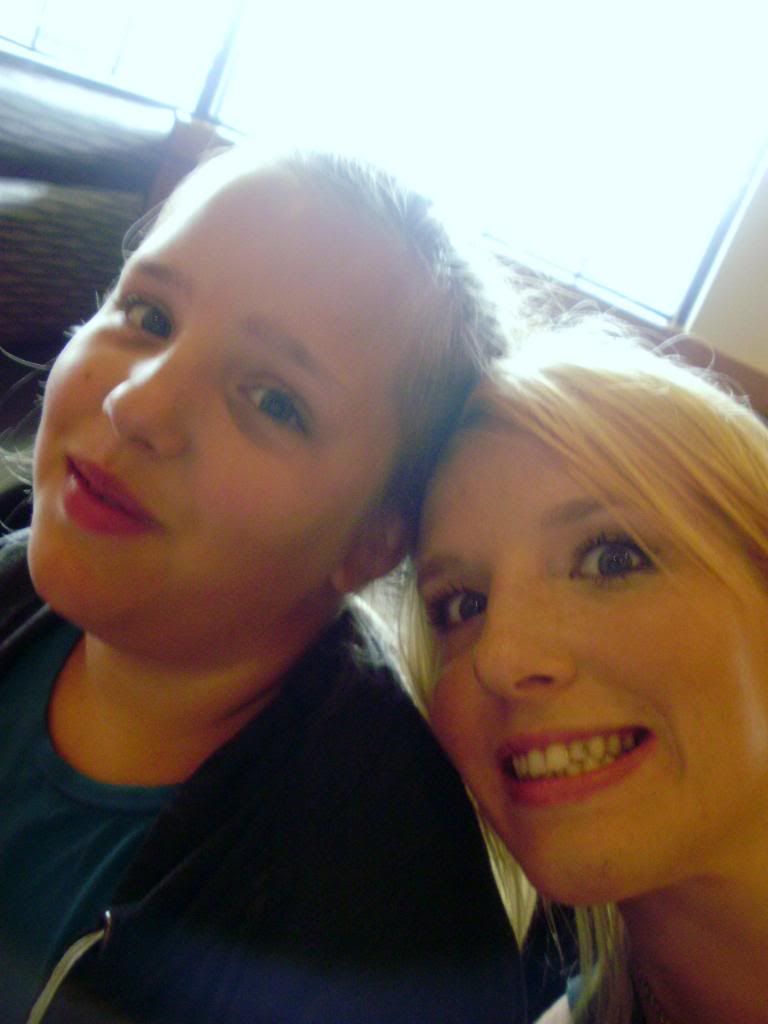 We then headed to my parents' house. We brought along hamburgers, hotdogs and cake to have an "official" celebration for Eileen. Patrick and Tom ended up showing up after they got out of work. I took Eileen and Mady to Mady's camp. Her family was celebrating her birthday the next day and Eileen was spending the night...it's now gone into the weekend. I'm due to pick her up in a few minutes.
Saturday Pat and Alex came over and we talked wedding. I had to be at church at 6. We had a meeting for the food servers for Sunday's wedding. After the meeting I could smell yummy smells coming from the church kitchen so I decided to be funny and let them know they were making me hungry. That led to me working with them! lol It was fun and I was glad I could help. When I got home Pat, Alex and Michelle were heading out the door to the drive-in. As I was cooking dinner, Drew and Allison stopped in. I just wanted to rub Allison's belly all night but I contained myself. :o)
Sunday was the wedding. The original plan was that I'd get to church at 11, work in the kitchen until it was time to change and get ready to serve at 1. There weren't as many guests as they'd planned for so I opted out of my serving duties and stayed in the kitchen where I'm much more comfy. It was fun and I was home shortly after 5. I immediately changed my clothes and jumped in the pool! AAAAAHHHHHH! Jake told me that worked called Michelle and she got the new position!!! WOOHOOO! Congrats Michelle! I guess she'll be starting once they find a replacement for her at her current store...figuring a week or two. We had leftovers from the wedding for dinner...no cooking for me.
Now it's Monday again. Kids are at school, I need to pick up Eileen now and then the kids at school in an hour and a half later. I don't need to take Michelle to work though...only pick her up! The girls are waiting for my sister to call since there's a rumor that they may be staying at her house for a few days. Sean is looking forward to this weekend when it's his turn for a birthday. I'm waiting for a phone call from Drew telling me Allison's in labor and it's time for me to head up to the hospital.