The kids had Thurs, Fri and Mon off but that doesn't mean my running stops. Thursday Carrie had a TODAY study appt that we've been trying to get done for weeks. Michelle had to work, Val had play practice all day long and Liz was spending the night at a friend's house so Luke on down went with us. The nurses said they didn't recognize Carrie she looked so much older. She really does seem to have grown out of that little girl look lately. Here's a pic of Carrie (on the left) and Liz.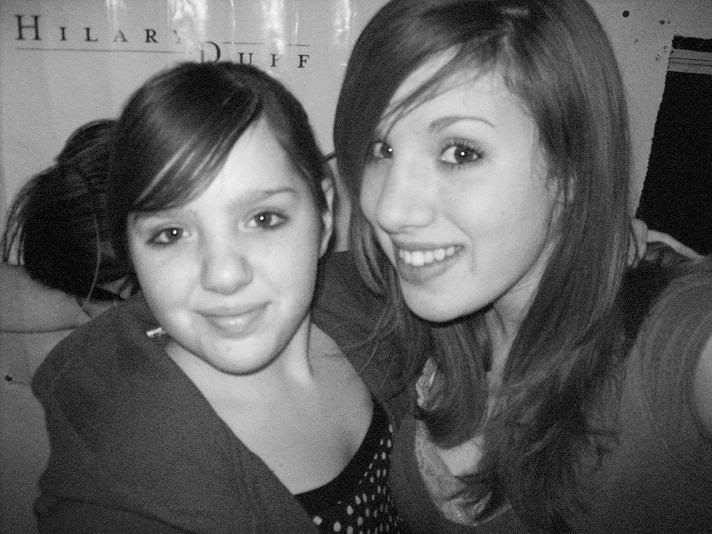 She hasn't done so great with taking her medicine. :o( There's no immediate consequence for her, she feels fine. She's usually rushing out the door for the school bus in the morning. Once she's in school there's no way for her to get her morning dose in, even if she remembers later. Dinner there's little excuse other then it's crazy here and I don't have my act together which is no excuse. She/we've been doing a lot better about it this week :o). Her weight stayed around the same. She's hardly gained any weight since being dx'd a few years ago. She's not growing but everything (thyroid, growth hormones, etc) seem to be testing out normal. It's probably a mix of the side effects of the total body irradiation from her bone marrow transplant and that she was destined to be small. Her bone age scan says she'll probably be 5ft as an adult, she's 4'10" now. She has to have another bone age scan done soon so we'll see if it still agrees with the last one.
We stopped at my parents' house afterwards. Some of the kids hadn't seen them in quite a while. At least I get to talk to them on the phone. It makes me sad to see Danielle and Sean reserved around them. It's solely based on not enough contact. The other kids saw them a LOT more often. Hopefully after Michelle's done with classes and gets her license that won't be so much of a problem. Although I'm probably disillusioned. :o( My mom made us dinner with her homemade Vodka sauce and pasta...YUM!!! I'm going to be getting the recipe and posting it on my food blog soon (link is above, labeled Growlies). We got home just in time for the older kids to go to the youth meeting. The little ones and I went grocery shopping before picking up Michelle from work.
My sister's girls were suppose to be coming for a few days but the youngest was sick earlier in the week. I decided Fri that I wasn't going to have them because I was too frazzled. I've never felt like that before and have never used that as an excuse. Unfortunately it was true and I WAS feeling like it. I still had running to do...Michelle work, Jake to a friend's, Val to play practice. It was BEAUTIFUL day out and the girls went for a walk. He I was busy around here but didn't accomplish much of anything as usual. All in all though I defrazzled a bit.
Fri night Tom brought home another deer for our freezer. With his brother out of town for the weekend I volunteered to help him process it on Sat morning. Tom and I were up bright and early and skinned the deer. He decided he should go for an early dump run and I decided to get started on processing the deer while he was gone. By the time he got back, I was almost done getting the meat off (still had to trim and package it later). I had NO idea what I was doing as I've never done it or seen it done before. I think I did a pretty decent job though. At least I ended up with quite a few bigger pieces then the guys did the week before. After I was done it was time to take Michelle to work. I was going to wait to go shopping for Easter stuff (which I had NONE of) until I picked her up that evening. Tom had asked me to pick up a few things so I decided to go during the day instead. Good thing I did too because when we hit the stores after she got out of work, the shelves were BARE! I ended up at Walmart, Wegmans, and Walgreens without getting anything more that I was looking for. Luckily I had bought enough to make the baskets presentable that morning. I think I might've been reduced to tears if I hadn't. When we got home Sean was having a fit so I took him to bed while Liz, Carrie and Tom did the baskets. That was a first for me....I've ALWAYS done them. Was kinda nice.
Sunday morning saw all the kids wearing chocolate beards and getting hopped up on sugar. The older kids decided they'd hide eggs outside for the little ones to hunt for. I was wishing for a video camera. Danielle was hilarious she'd find an egg, do this adorable run back to her container and SLAM dunk the egg into it. She'd then do her adorable run to another area of the yard to search. At one time I was about to yell at her to get her hands out of the snowbank when I saw her yank out an egg and realized what she was doing. After the egg hunt we got ready to go to my aunt's for Easter dinner. I had made a HUGE fruit salad for it and was drooling at the thought of eating it. Luckily there were leftovers of it and we had some for breakfast and snacks. There's an interesting story of what else we brought home from the dinner on my food blog.
here
.
Poor Sean. His eczema was flaring up by the time we got home from my aunt's house. I'm not sure why though since no one was smoking and there were no animals. These pictures were taken right after we got home. It seemed to get worse before bed and he woke up oozing in the morning.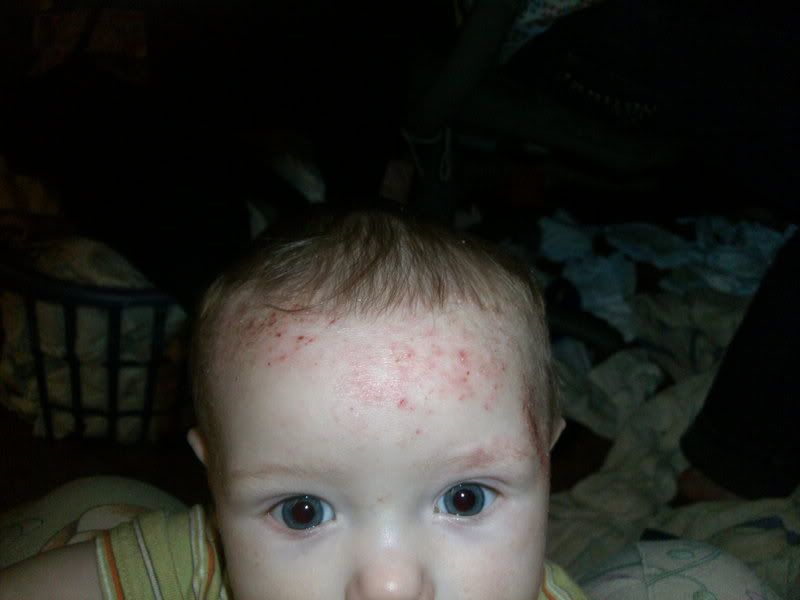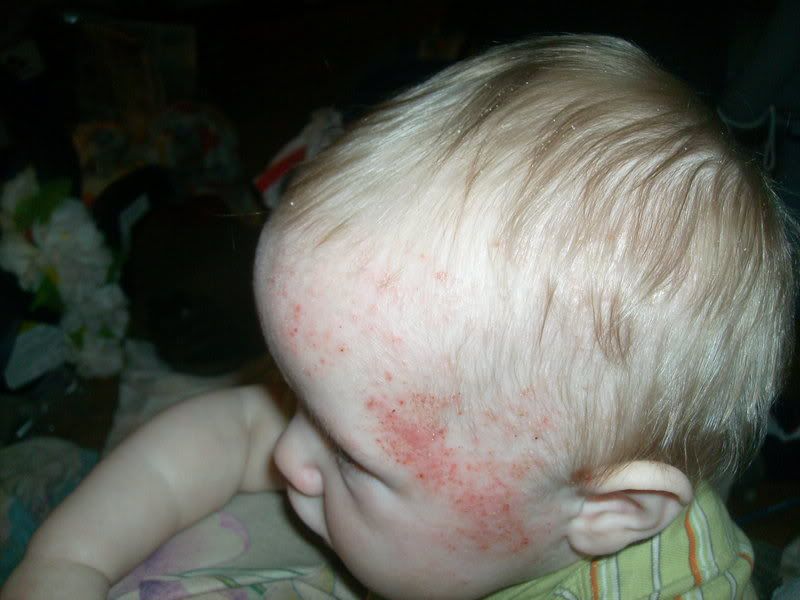 Monday was fairly easy going. Michelle still had class so I had to drive her in. I managed to get some laundry done but not much else. Michelle didn't have to work so was out at 4pm. Evening activities were not scheduled so that meant no running at night. YEAH!
I'd make up for it on Tuesday though. School was back in session but we had dentist appts for noon. That meant I had to take Michelle to work at 9:30, go home and had an hour to get ready to leave. Pick up the school kids at 11 and then head into the city. We were there for over 2hrs and Sean was SO ready to get out of there when we left. We headed to my parents again. This time I thought we had tons of time until we had to be home at 7:30 for cleaning. I could finally help my mom figure out how to use the digital frame and a keychain I got her from Christmas (were still in the boxes). Time flew and next think I knew it was 7:00 and we hadn't left yet. (My dad had made us dinner quickly before we left). I had a 40 min drive ahead of us and they were due at cleaning in less then 30mins. Hmmmmm. While driving I realized I couldn't really make it to church and then back to school before 8 when Val needed to be picked up. So we decided to go right to school and wait for Val. Their play went 40mins over!!! GRRRRRRRRRR! That left me with under 20mins to get to Michelle's work which is about 25mins away. Lucky for me she didn't get out of work right away and we got there in time. We pulled into the driveway just before 10pm with the 4 little ones sleeping. Sean and Danielle were hysterical when we got them inside so I took them right to bed. I also feel asleep with them which prompted me to be fully awake, tossing and turning at 2am. So I got up and discovered our internet was still down. Good time to clean...naaaaaw. Time to grab a book! I read until 4:30 when Sean started crying and I climbed back into bed with him, dozing until it was time to get up for good at 6:30.
The kids having days off of school always messes me up in terms of what day is what. I realized that today was Wed and I'd missed chat last night. I guess it was a good thing the internet was down otherwise I wouldn't have been very happy with the thought of missing it. Only two more days of school! I'm not too sure why the thought of the weekend excites me. It's not like there's too much relaxing's going on during the weekends. lol