I've been taking it easy today. I have a long night ahead of me and I know it. We're doing a concession stand at a WWE Supershow at the Carrier Dome tonight. Attendence 12-20K. It looks like our stand won't be alittle out of the way overflow one either like our other ones have been. It'll be right smack dab in the middle of traffic. I'm expecting us to be pretty busy all night long. So today it was dishes, a load of laundry or two and some crocheting. I had to modify a GPS case I made for Allison for Christmas. Originally it wasn't deep enough, so I added a few more rows on and lengthened the top flap. The extras rows look a bit funky but ok since it's hidden by the flap. The flap, I actually like the additional rows to it. It adds another dimension to it (I think that's what I want to say).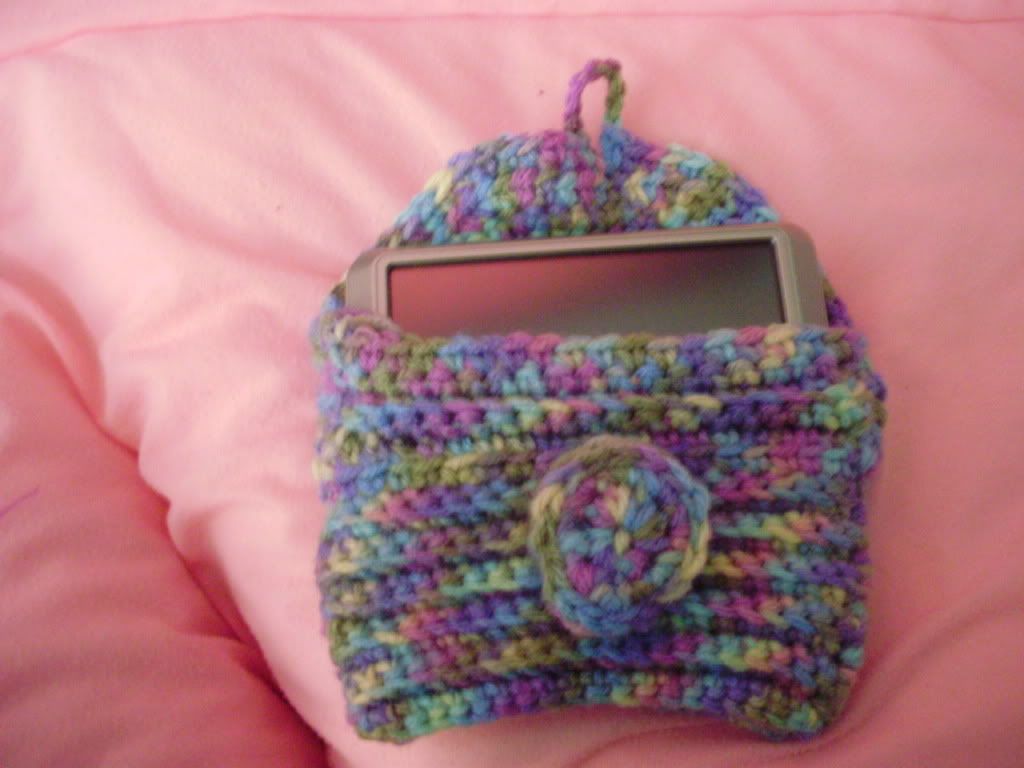 Originally I was going to make it stay closed with velcro but that would require me to find a needle which have all magically disappeared (sewing, darning, tapestry, you name it, it's gone). So brilliant me crocheted a button and added a button loop onto the flap. ICK!!!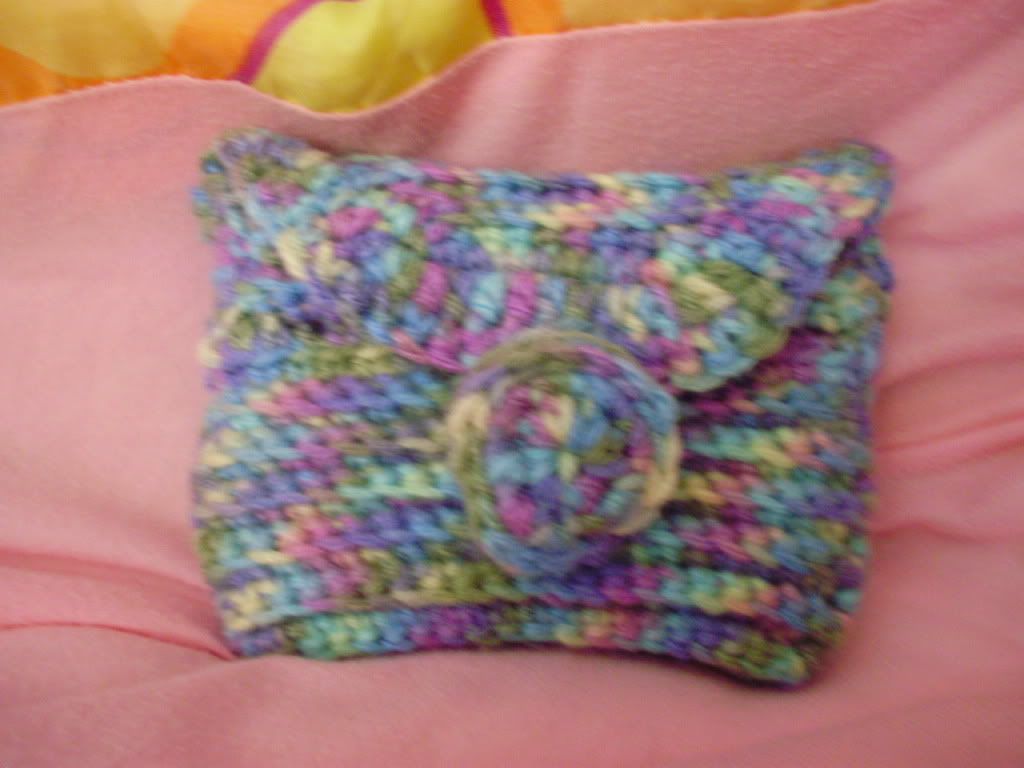 No matter how hard I tried to like it with the button, I just couldn't. It looked tacky. So off the button went and I'm back to looking for a sewing needle to sew on velcro again. And a few tail pieces that I have hanging all over now.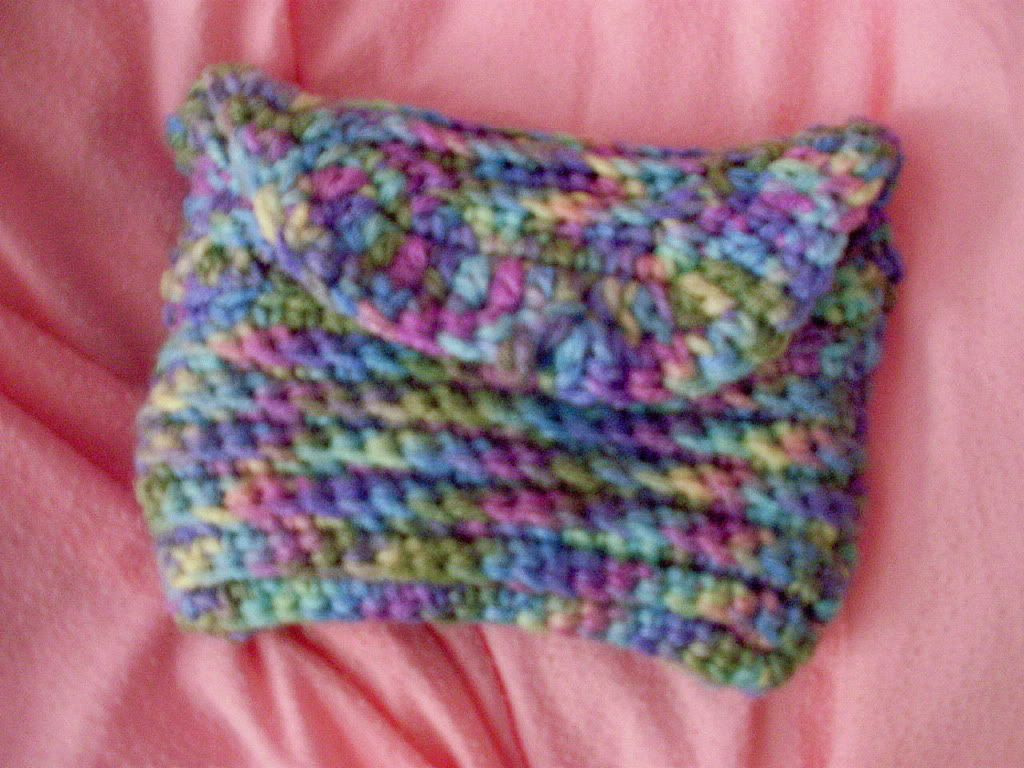 I was up all alone this morning. I couldn't really do anything because the little girls had a movie night with a campout on the livingroom floor. So I sat and watched crochet videos on youtube. This led to me grabbing a very convenient skein of sassy stripes yarn and my G hook. I made my first pair of socks!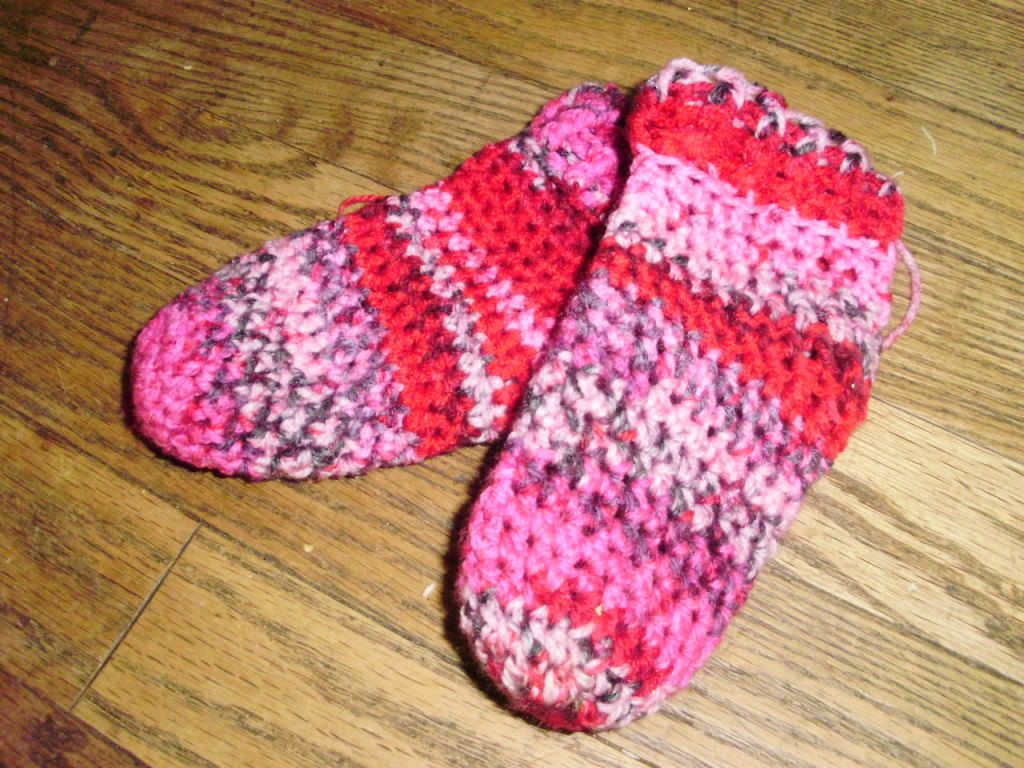 With some modifications (not sure I can ever do a pattern as written) they fit Sean pretty well. I still see some improvements I'd like to make and I want to investigate gussets a bit more because I'm not totally pleased with how the heel came out.
Still, they were quick and easy! I could see me using a modified pattern of this to make bigger people slippers. I was thinking of doing an experiment on how yarn thickness, needle size and whatnot change the gauge of a pattern. But we'll see. I think I might've found an afghan I want to make for one of my upcoming weddings. Just not sure who it'll be for. Or when I'll get started on it.