And the fun thing is...I don't have to go anywhere tomorrow! Yeah me! This week has been away games for the Orangemen so no beer pouring or concessions. Michelle has today and tomorrow off so no driving her. The kids have activity club tonight but that's just a quick 2 mile run down the street and then back to pick them up. My goal is to get as much done today so I can relax tomorrow and do some projects. I still have some Christmas presents that I owe to finish. If I get the chance I might even start my mom's cloche. She's picked
this hat
when she was out here last weekend. I have some Bernat Satin in a charcoal grey she approved. I'm going to make it up in a light brown Bernat Satin first to see if I need to modify the pattern. I figure I can always add it to my donation box if no one else wants it. There's always some organization that's looking for hats, blankets and such. So may as well put it to good use. My sister's youngest Emily is coming out tonight after Activity club and I'm assuming staying the whole weekend. I owe her and her older sister Amanda handwarmers since I already gave Jessica these...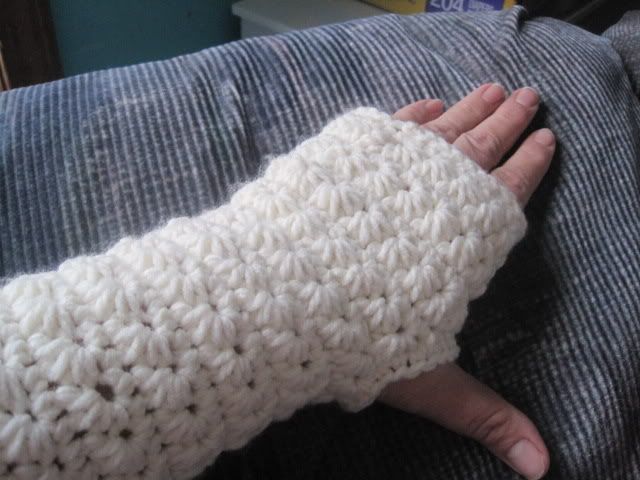 You can find the pattern
here
So I'll let Emily go through my stash and pick a color she likes and make her's. If time allows maybe she can pick a color she thinks Amanda will like and I'll get those done too. I can always hope.
Anyways, I'd feel a lot better about doing the above if I get a bunch of stuff done today. I've already thrown in laundry, loaded the dishwasher, pulled out and cleaned under the couches (still have 2 piles to deal with because of it). After my coffee is gone and I'm done here I'll go back into the basement to throw in more laundry, then the kitchen, more laundry, then the bathrooms and again more laundry. Who knows, I might even get the Christmas tree down! (yes it's still up and decorated) I will NOT go out to the van and sneak my bags from the Salvation Army in, nor will I pick up a crochet hook and start using it!
Sean decided this morning that he wanted to wear underwear! He's nursing in my lap right now with a cute pinchable hienie tempting me. Who knows...maybe I'll be right this time. Everytime I buy a huge box of diapers from BJs I always say...THIS will be the last box of diapers I need to buy. I've only been saying it since last summer. lol Hmmm I just had a thought....will I be sitting in the bathroom all day with Sean? That'll make my todo list easy...NOT!
Coffee's almost gone and Sean is heading to the bathroom so I should follow him. Have a good one!