Sean Robert
July 24, 2007
7:30pm
7lbs 14oz.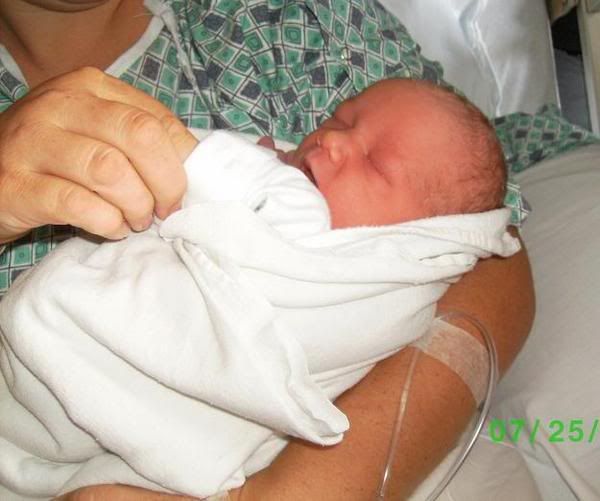 I was admitted on(the 23rd) Monday morning at 7:15. Dr B came in, examined me and tried to break my water but he couldn't do it. After the exam he came into the room wheeling in the sono machine. I said...oh don't tell me! He said I'm not saying anything until I'm positive. The u/s showed that the baby's head was to the right of midline, same as it was 2 wks ago. Dr B assured me that he was floating high and most likely would move into place as labor progressed. I was hooked up to the pit by 8am. The contractions started coming quickly shortly after 10. They weren't uncomfortable but there and were every 3-4mins apart. By 2pm they were every minute or so but hadn't increased in length. I sat in a high back chair most of the day talking and watching tv with Tom. After office hours Dr B came back in and examined me and said I was about 2cm. He then had them order me a dinner tray with instructions to turn the pit off at 10pm. I'd be allowed to rest for the night and we'd restart in the morning. As soon as the pit was turned off my contractions stopped. Tom went home for the night so he could get some sleep in a bed instead of a chair. I had a decent night's sleep.
Dr B came bright and early (7am) Tuesday morning (the 24th). He couldn't break my water on that attempt either. The pit was restarted and the contractions started up immediately and were a few minutes apart. Tom came in shortly after 8. I could start to feel the contractions in my hips so decided to stand. About 11:15 I thought I had peed down my leg. It took a bit of time before I realized it was too much for that and my water had a slow leak. Dr B had preformed a c-section in the morning and came in to check me again about noon. I was 4cm which meant I could then be moved the birthing center with the nice rooms! YEAH!
They got eveything set up at the birthing center and I used the birthing ball. WHAT A DIFFERENCE! I loved it and stayed there for the rest of the day. I was checked at 2pm and was found to be 7cm. This was so different! I usually flew from 4cm to transition within an hour. I was loving this gradual progression. The contractions were never anything unbearable and I didn't have too much of the dreaded hip pressure/pain that I usually do. About 4pm I reported that I was starting to feel pressure when the contractions hit. I was also starting to feel nauseated so asked for some Stadol which helped a lot and I enjoyed. I also mentioned the pressure didn't stay for the whole contraction. Dr B was moving between me and a 17yo girl who was getting ready to push. (luckily we were next door to each other) He examined me, found me to be 9 almost 10cm and again brought out the sono machine. The baby hadn't moved since the last time he checked. His shoulder was presenting, head was to the right up against the other shoulder, spine along my left arm, buttocks straight up at my sternum. He reexamined me and tried to manipulate the shoulder out of the way and it wouldn't move. (I was SO thankful for the Stadol at this point)
The options were laid out...
A) Baby moves on his own and we delivery vaginally
B) Dr manipulates the baby into the proper position and we deliver vaginally
C) We do a c-section.
(warning may be a bit too graphic for some)
I told him after that last manipulation I'm starting to think option C might be a bit better then option B! He had me assume the knee chest position for a while to see if we could get the baby to drop out of the pelvis and move. They couldn't find the heartbeat with me in that position so after a while they needed to get a strip of the baby's heartrate during contractions. Dr B came in and examined me, found nothing changed. He tried to sweep the shoulder out again and it didn't work. Then told me...assume the cow position (buttocks up, chest to bed). A little too late I realized he was going for a full manipulation. He had his whole hand in and was trying to move the shoulder out and head into place. It wasn't working and I was screaming and crying. (Stadol had worn off) Tom said the Nurse Practitioner Student looked like she might be about to pass out at this point. Dr B declared it wasn't working and we were going for option C....c-section....it was 5:30pm. They stopped the pit and the contractions stopped immediately.
By 7pm the assisting dr and anesthesiologist arrived and I was prepped for the OR. Tom mentioned a tubal ligation. We've had an "agreement" since Olivia (#10's) birth that if I required a c-section that would be our clue that we should be done having children and I would get my tubes tied during the section. Dr B said he normally wouldn't allow a woman in labor to make this type of decision but my circumstances were different (he also knew we had the agreement in other pregnancies). I told Tom I was ok with the decision but he had to realize that that may not always be the case. I'm the type of person that would never feel done having babies, even after menopause hit me full force. That he'd have to be understanding when those times came. So at 7:30pm with Tom sitting next to my head, our 12th and final baby was born.
Here's the newest family picture....