So much for winding down on the weekends. Yesterday was spent running and moving. We went to church at 11 (well, 15mins late...so 11:15) After church it was back home to do laundry, eat lunch and do homework. Then back out the door at 6:30 to go back the meeting hall. The ladies at church threw Danielle and I a baby shower!!!
OMGoodness! Danielle is now the best dressed baby in the world!
All her new sleepers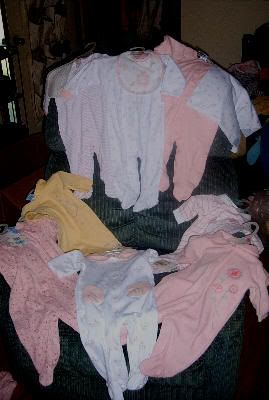 3 sleepers came as a set with bib, hat, burp diaper...solid, striped, print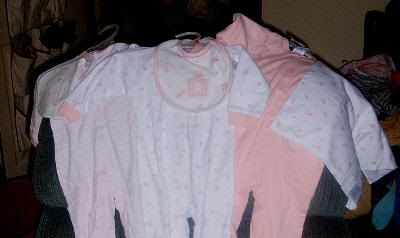 Her outfits including sleep sack, sleep/blanket bag, nightgown, and 2 dresses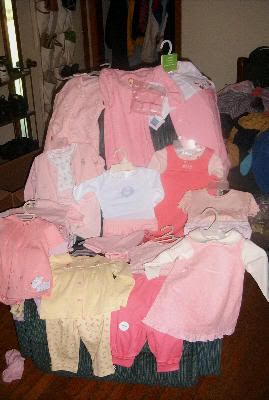 Miscellaneous things...lots of blankets (white one at the left top of the chair is the SOFTEST flannel I've felt...made by a 14yo girl), GoGoRider baby carrier, lots of onsies and socks.
I'm afraid that I'll never get some of the outfits on her before she gets too big. Hopefully having arranged them according to size will help make sure that doesn't happen.
Danielle was passed around and enjoyed by all. She faked us out by "sleeping" the whole time. Every once in a while we'd catch her peeking out from under her eyelids. :o) We had lots of yummy snacks, I didn't eat dinner before I left and was starving! I can't really track everything I ate so not sure how I did on my foodplan caloriewise. Oh well guess I can call it an off tracker day. Just wish I'd realized this in the MORNING! Yeah, like I've had on tracker days and deserve a day of gluttony right now.