I pulled a big DUH on Thursday but it was a good duh. It was slated to be a REALLY busy day. Michelle, Tom and I were set to go to the social security office in the morning, then I was taking Carrie to her TODAY study visit in the afternoon, shopping for the weekend cookout with my dad afterwards and Olivia's concert in the evening. Michelle didn't "know" about our plans and made other plans...1st errand scratched. I picked up Carrie from school and called the TODAY coordinator to confirm her 3pm appt. Seems Carrie wasn't scheduled for this Thursday. Her appt is NEXT Thursday, scratch errand #2. I called my dad and he said he'd go shopping on his own, scratch errand #3. Tom had taken half a day off even though we weren't going to the SS office so I went outback and hung out with him all afternoon...bliss. I'd barely seen Tom in the last few weeks much less talked to him! I worked on the pool filter and got it running. I even managed to doze with Sean in a lawn chair.
So out of everything planned the only thing I ended up doing was going to Olivia's concert. Here's a pic of Olivia on stage before she started singing (she's in the turquoise dress with her arms twisted. Think she's a bit nervous?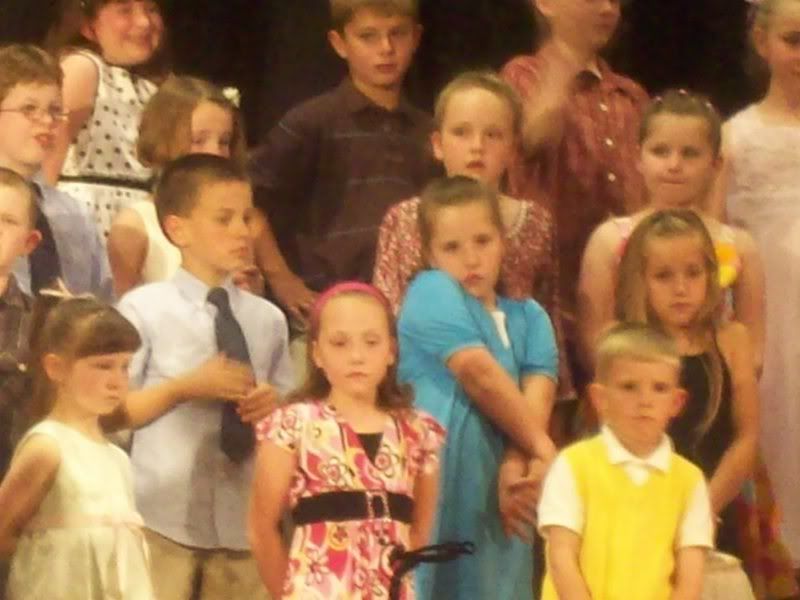 Saturday looked to be a dismal day for a cookout. It was raining when I got up. I checked the pool...filter was bogged down and needed to be bumped, so did it. Added a few more opening chemicals to it. It's looking a bit clearer. :o) Checked the well...It's to the top! YEAH! I managed to get the settings right so that the pump can keep up and then some. Time to do laundry! Threw in laundry, made fruit salad (my contribution to the cookout) and wrapped my mom's presents. I was shooting for going out the door by 2, it was almost 2:30 when we finally made it out.
The rain stopped, things dried up and we were only teased with a few quick sprinkles all day and night. At one time I started brining in the blanket on the group but it had finished raining by the time I dragged it to the back porch. I was hoping to get a family picture but then Val opted not to attend. It's the start of graduation party season and Carl is covered from head to toe in poison ivy...so probably wouldn't have been too comfy to go anyways.
Adults having a discussion while the kids play
Washers
in the background.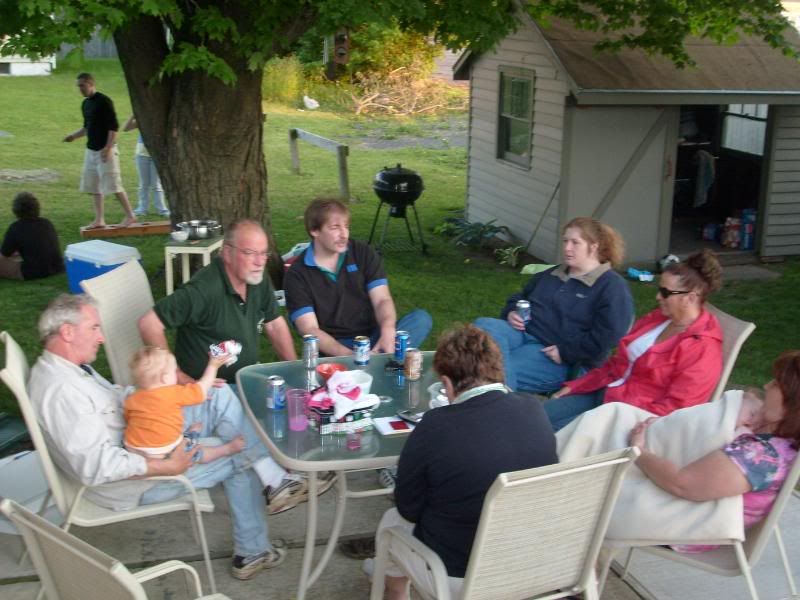 Tom holding Sean, my dad, my brother Brian, Brian's wife Melissa, family friend B, sister Tracy holding Brian's baby Samantha, my mom.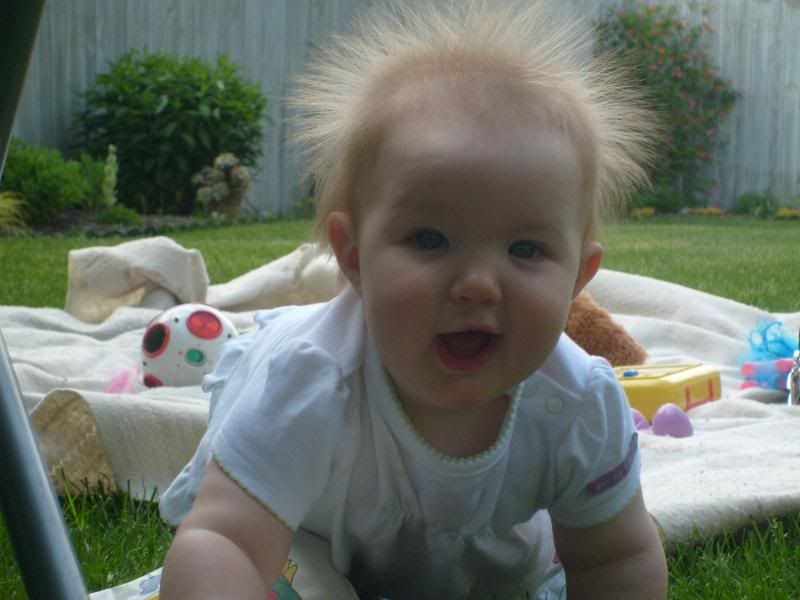 My niece Samantha, and yes, her hair is always like that.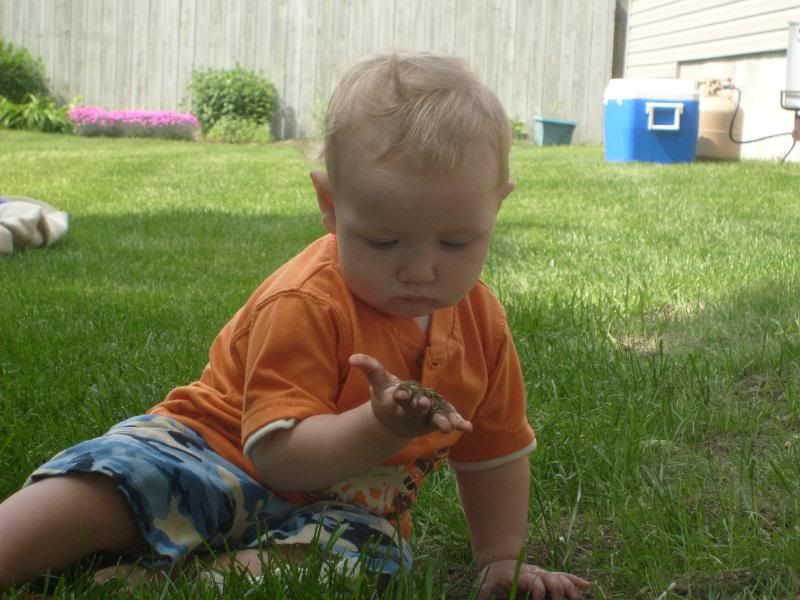 Sean found Grandpa's dirt. My mom had an after picture but it was sideways and I didn't have time to manipulate it while there. Maybe I'll get it another day.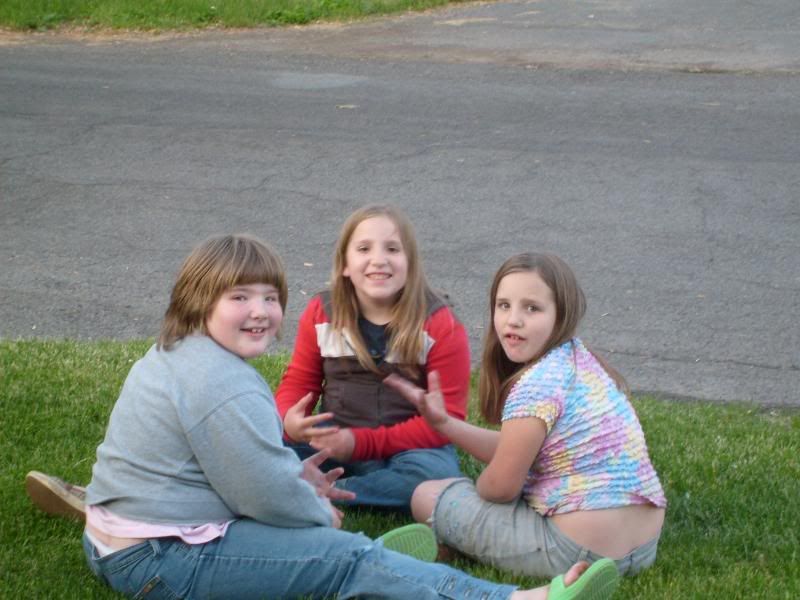 Olivia and Eileen having some girl time with their cousin Lindsay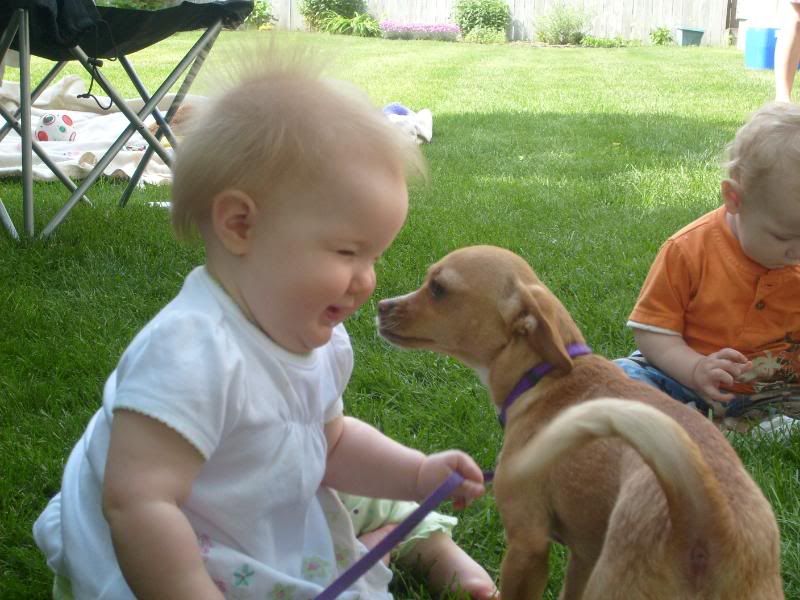 Samantha and Sweet Pea (Drew and Allison's dog) meet nose to nose.
We had sat around the fire while the kids played hide and seek at night. They finished up a very late night with a coloring session at the diningroom table. We finally pulled into the driveway around 1am.
Sean hadn't really slept all day (took a snooze in my arms a few times) and was miserable Sunday morning. He also felt a bit warm (him and Danielle are starting green noses) so I opted to stay home from church Sunday morning.
The annual pool saga has started. The filter isn't running very well even after I changed out the earth in it. I suggested to Tom that we give the sand filter that was in the basement a shot. After I showed it to him he agreed. We stopped by the hardware store to get the filter sand on the way to picking up Michelle from work. We realized after picking up Michelle that they gave us the wrong type of sand (gave us 100lbs of play sand, not filter sand). So we headed back to the store and got the right stuff. We were so excited after we hooked up the pump. Turned it on and it looked like it was going to work GREAT! Then a compromised pool hose blew and we had to shut it down. We were pretty bummed to have to wait until today to get new hoses and get things going. I really don't think it'll take too much effort to the water clear...just a few days filtration, a good vaccuming and some chlorine. Hopefully it'll be done in a few days as we're suppose to have a high of 90 by Friday!!!
Oh great! Danielle tried feeding me a spoonful of yogurt. What she managed to do was send a huge plop of it into my lap, landing in the middle of my keyboard! Need to go and try to rescue this thing.