Time on here has been scarce. There was once a time when I'd think someone who questioned how anyone could have time online, just didn't bother to make time. Now I'm one of them. I'm writing blog posts in my head. I'm starting them, then Sean starts crying or Danielle asks me to move the keyboard so she can sit on my lap and it's gone. With the end of school around the corner (3 more weeks! woohoo!) online time will be even more rare.
We had a nasty stomach bug run through the house last week. Poor Sean was the sickest, it also affected him the longest. The amazing thing is his eczema cleared up! I realized last Sat that his face had 3 pindots of red on it. Unfortunately I think it cleared up because he wasn't eating any solid food all week, only nursing. Now that he's back to eating solids again it's flaring up and bleeding. I'm wondering if it's wheat, I hope not.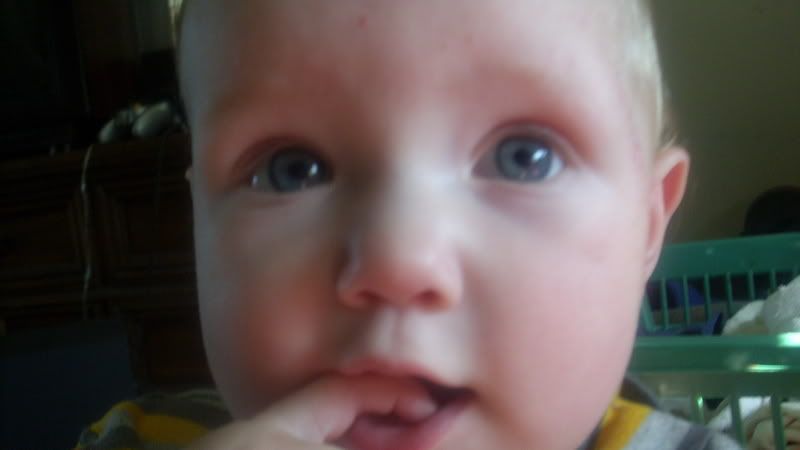 Sean (9.5mo) taken May 4th
Last Friday was Val's prom. Her and Carl looked really sharp as usual.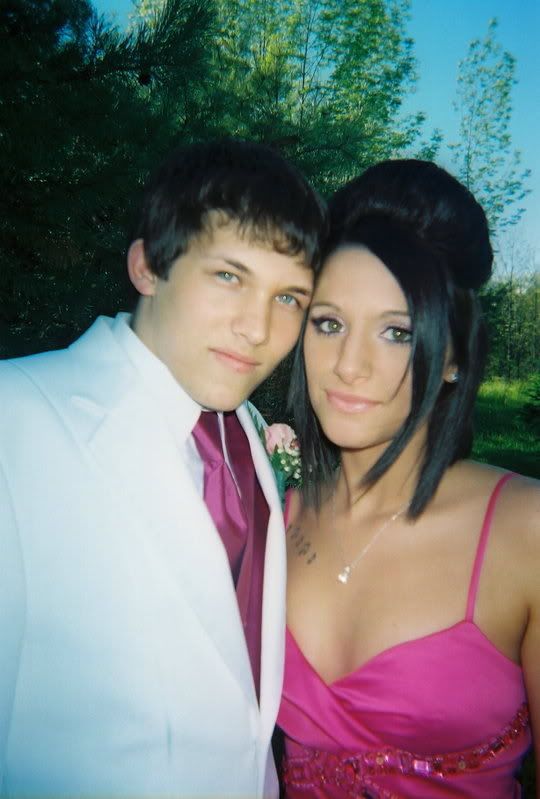 They went with Val's best friend Janna. Here's Val and Janna with Janna's baby Kolson who is 5wks younger then Sean. I was Janna's coach/doula for his birth. :o) (that's Olivia giving Danielle a ride in the background)
The rest of the holiday weekend saw us at the church soccer tournament Sat (played 5 games) and Sun morning (played 2 games). We then headed to my brother's house. Their youngest who is almost 5wks younger then Sean too was baptized. He had a cookout at his house afterwards. My sister also planned a cookout for Sunday evening so we headed over there afterwards. Monday we stayed home (Michelle didn't have to work...yippeee!) did a bunch of work in the morning and then had a party/cookout at home. Drew and Allison came over, we played charades and Who am I? Who am I is a game where you have a paper taped to your forehead. Written on it is a person/character...real or fiction. You then ask yes and no questions to figure out who you are. We had....
Drew... Geico caveman
Allison... Sweet Pea (Drew and Allison's dog)
Michelle... Dora the explorer
Cory... Hilary Clinton
Val... a pirate
Carl... a princess/queen
Luke... The Kool-Aid man
Carrie... Emo Elmo
Jake... Carl
Eileen... Mickey Mouse
Olivia... friend from church
Me... Aunt Jemima
It was pretty late by the time the game was done and the kids had school the next day so our weekend ended.