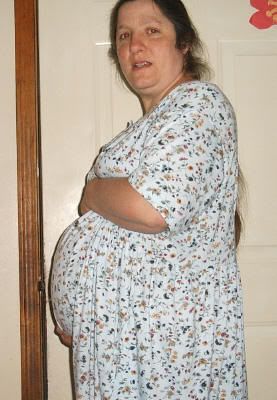 23weeks 6 days
Sorry that I'm not the happy camper in the above pic. I was trying to talk a kid through using the new camera. I was just happy to get a decent picture and gave up quickly. I promise to try to smile in my next one.
PHEW! It's been a looong day and I'm really sore. Drew, Olivia and I left the house at 10am and headed to my dr appt. It was uneventful (just like we like them) and pretty short for once. I lost 5lbs and am back to 214 where I started this pregnancy. Talk about a yo-yo act. LOL I was not looking forward to going over my all time high after hitting 219 last appt. My blood pressure was 100/70...another low reading...fine by me. :o) Olivia was given a chance to use the doppler and try to find the baby's heartbeat. She needed a little help from Dr B.
Dr B said he's quite happy with how well I'm doing and to keep it up. I NEVER thought I'd be doing this well this far into my pregnancy. It's making the thought of future babies a little more concrete in my thoughts. Although I'm sure it hasn't done the same to Tom. LOL My numbers are fine, the dr decided to keep things like they are. I on the otherhand may up my morning insulin tomorrow morning anyways...just a tad. My numbers are at the top of ok and I'd like them just a little lower. I don't have to go in for another 2 wks! YIPPEEE! That would be June 1st...the days seem to be flying by lately.
We left the dr and had about an hour to kill before Drew needed to be at work. We decided to take a quick walk through the mall, we didn't purchase anything. We got to the waffleshop a little bit early. Olivia and I had lunch there and then went to the dollar store. Half way through the dollar store Olivia started doing the potty dance so we quickened our pace and headed to Walmart. We then spent the remainder of our afternoon at Walmart. Drew called me to tell me he was about done with mopping up just as I started putting what I was buying on the conveyor belt of the register. I told him I'd be there as soon as possible. He called me again as I got the cart to the car. So he had to wait about 10mins...poor baby! I asked him if he'd run me to the pool store so I could run in and buy a patch kit. Now to just get it put on the liner! I was beat, a bit sore and was happy to be heading home.
I got home, took a bag in and decided to let everyone else do the job....I was sore! Just as the last bag was brought into the house, the second trip bus dropped off the rest of the school kids. Michelle, Val and Liz immediately started asking to go shopping for bathingsuits and such. They'd been bugging for a while and Drew actually agreed to drive them....so we went. I hobbled out to the car. We hit Kohl's, TJ Maxx, The Shoe Department, Target (just ran in and out), Walmart and a quick trip back to Kohl's. I started crying while in Walmart because the girls were walking too fast for me and I was REALLY hurting by then. I was doing those tiny grandpa steps that Tim Conway made so funny. Just getting my feet in and out of the car was hard. We finally got everything we were suppose to and started to head home. Well, we stopped by McD's and had dinner and ate so it wasn't a direct flight home. I was starting to zone out on the way to McD's and was SO glad to get something to eat. Unfortunately a school bus was there before us so it wasn't so fast fast food. I had a fillet and a side salad and still felt hungry. I was strong and waited until I got home and tested my bloodsugar before I had my bedtime snack. LOL I could really go for another fillet though! LOL
I was right next to the grocery store tonight but had NO energy or room in the car to go through the store. I'll have to run back out tomorrow or Friday. My guess is that tomorrow will probably be out....I'll most likely be a tad sore tomorrow. It's suppose to be nice out...maybe I'll try to get some seeds planted. Guess we'll have to see what tomorrow brings energy and sciatica wise.