I now have to add a bit torqued too. I had a huge post finished and got a phone call. While on the phone Olivia closed the browser so she could play Rollercoaster Tycoon! GRRRR! Well let's see if we can piece this back together again.
It's been a really busy weekend. Friday D and I went grocery shopping. My hips felt good afterwards. My bloodpressure was high after I got done carrying in and putting away the perishables. I was beat so I laid down for a while and it went down like a good bloodpressure should, and stayed there! :o)
I've been really tired the last few nights and barely made it into chat Friday night. I only stayed for about 45mins though and immediately went to bed after I left. I was asleep before my head hit the pillow. The only thing wrong with going to bed "early" is that I tend to wake up in the middle of the night. Saturday morning I was awake at 2:30 and decided to test my glucose. I was quite low with a 59 so had a bowl of Lucky Charms which didn't raise it too much. I then made a bag of micro Kettle Korn. Piggy me at the whole bag! (3 servings worth) My sugar was 189 when I tested. I finally went to bed at 5 or so. Luckily my sugar was under my limit although it was JUST under.
Saturday was spent outside all day watching our fellowship play in the church's weekend long soccer tournament. It was a beautiful day to be out...sunny, not too hot with a nice breeze. I realized I was starting to pink up about 2ish and loaded up on the sunscreen. It wasn't enough....lol I'm a tad tender and quite a few different shades of red and pink. I've had worse though. I dealt with a touch of sciatica on and off all day. Sitting for a while bothered it, standing for a while bothered it, and walking too much bothered it. So I tried to change it up on and off all day and think I did an ok job of it. Unfortunately our soccer team didn't far so well as they lost all their games. They gave every team a run for their money though and played hard! I think it's safe to say that they had fun too. It's always a nice time when they can get together with friends from distant fellowships. Being there I found myself thinking....oh to be a teen again. LOL Although I wouldn't want to deal with all the garbage teens have to. It'd be fun to take a weekend off and just have fun with tons of friends...day and night.
I didn't make it past 9pm Saturday night. I jumped into bed and let Tom make sure the kids went to bed. Again I woke up in the middle of the night....midnight this time. Tom was making BLTs so I had one. My sugar was only 95 when I went back to bed at 2:30. When I woke up about 5 hrs later it was 102. GRRRR! I've been in tad high range all day today. Tomorrow when I'm back on my more regular schedule will decide whether I really need to up my doseage or not. I'm not too surprised since I'm starting into the prime insulin resistance timeframe. I'm thankful to have had as long of a leveling off period as I did!
When I woke up Sunday morning my hands and arms were swollen. What was really weird was that on my right hand I had the thumb, pointer and middle finger swollen but the rest of the fingers were normal. They swollen fingers were also numb. I hope I don't start carpal tunnel syndrome too! I had it with Olivia pretty bad...totally forgot about that until this morning. Luckily my bloodpressure was good and the swelling went down.
Sunday was Tom's mom's birthday! HAPPY BIRTHDAY GRANDMA!!! A bunch of his siblings and a few grandkids took her to the chinese buffet. We had a great time, it was relaxing. Of course not following my food plan and already chasing highs today meant that I was high tonight too, but again it could've been worse.
After dinner we stopped by my parents. I hadn't seen them in quite a few weeks. They were quite surprised at how much my belly has popped out. Of course my mom had to get in her quota of belly rubs in. LOL We couldn't stay long. Tom and I were watching a 12 passenger van up for auction at ebay and it was due to end soon. At the end of the auction we became the proud owners of 1992 Ford Club Wagon!! Now to get all the logistics taken care of so we can go down to Kentucky to pick it up! I'm so excited!!! Here it is....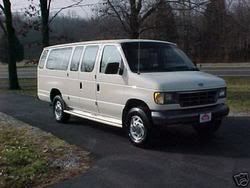 I can't wait to take all the kids somewhere! :oD