[the shift]
Website in the making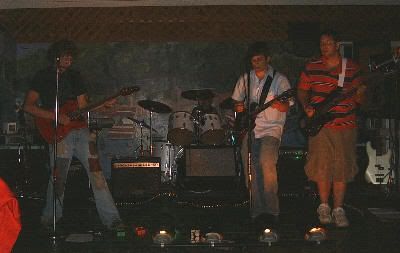 Guitar (l to r)...Mike, Brian, Drew
Drums...Matt
Keyboard...Laura (hidden behind Mike)
We had a fun night Friday night. Drew and his band played well and sounded GREAT! What a difference from the last time I heard them a year or so ago. They've been practicing a LOT and it shows. They played from 9 until 12:30, 3 sets and a ton of songs. The 3rd set was face melting rockin' like they promised. They've been asked to return to the Marina for at least one more time, possibly 2. The owner of another bar was there to scope them out and I hope something comes of it. They were asked for a demo or two from people with connections. It was a great experience for them and they are super excited at what may be in the future. Here's a closeup of Drew during the last set.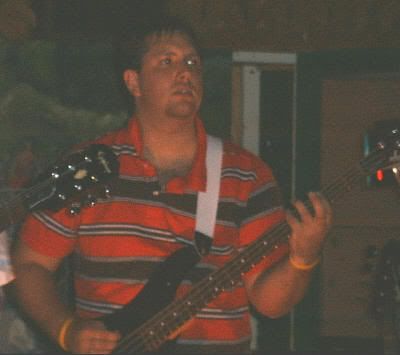 Tom and I ended up sitting with Tom's brother B and his wife M (laura's parents). We didn't get a chance to talk much since the kids were rocking so loud but we still had fun. Tom and I ordered the appetizer sampler which would've been enough for us had we known (good to know for next time though). We also each had a haddock sandwich with TONS of homemade chips...yum! Now we know a neat place to go to have a snack and some beverages that's nearby when we want to do something together. We got home close to 1AM and fell into bed. Drew got home about 3.
Saturday was a BUSY day. Michelle and I finished making up the meatballs for the subs. I think we have enough for 110 to 120 sandwiches. Drew and I started painting. I did the majority of it although Drew still has things he'll be painting. I got the hallway, livingroom and majority of the kitchen done. I cheated and didn't paint the ceiling first in the kitchen though. So that still needs to be done. I was SORE by the time I went to bed!!!
This morning (after I'm done with this actually) Tom and I are headed out to Lowe's to pick up some things we need to finish projects around here. One of them being the pool ladder! It's getting up there although I wish it was DONE. Hopefully the filter can be turned on midweek so we can get it sparkling clean in time for the party. My todo list is HUGE for today! My ride is waiting for me....update later.