Computer time is at a minimum for me lately. Even the little ones are insisting on getting a turn. I think we've gotten to the point where another computer or two or three would be best for the house. It probably won't be a reality until we get our income tax return though. Maybe until then I'll just ship them off to public school! Then I'll only have to fight Olivia for it during the day. LOL
Poor Michelle! She woke up Tuesday morning with her right eye swollen shut. Her face was covered in poison ivy. I had some a series of steriods that was prescribed for me when I poison ivy on my face. (was given to me as a just incase measure...seeing as I was at the dr's on a Fri...I never used it) Her face is looking a LOT better already today. Problem with all this though is....she was suppose to get her senior pictures taken this week! Figures! I'm hoping it'll be gone by next week. She needs to get them taken in the next few weeks. Here's a picture we took of her. She looked a lot worse a few hours before we took this. Shhhhhhh...she thinks they all got deleted.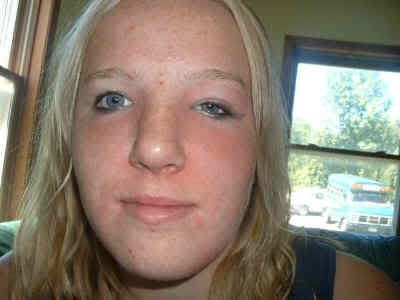 Luke and Jake had a fun day on Tuesday. R's mom came and picked them up for a game of minature golf and lunch. Jake had never been before, Luke had gone once before....my kids are so deprived. ;o) They were suppose to go on Monday but R's mom came down with a sudden headache. I'm wondering if it was what Luke had on Sunday. At least it doesn't last long.
I went shopping on Tuesday with Drew and Liz. We had to pick up Liz's glasses first. The second stop was the dollar store where I broke an all time personal record and spent $95! Record before that was $87 for Christmas. If this wasn't bad enough we then went to Wal-Mart (have I mentioned lately that I hate this store!?!?!) I spent another $300!!! It wasn't as bad as it might seem, considering I came home with a bunch of groceries. I can't wait until school shopping is done! Then I will be able to avoid the stores and stop spending money!
The phone woke me up at 8am this morning. It was K...she wanted to know if J and her could come stay with us for a few days or a week. Seems their grandmother is in the hospital in NC and isn't expected to live for much longer. J and K's parents were driving down to be with her. I immediately got Michelle and Val up and asked them to help me clean up quickly. They both cooperated and did a great job (although you wouldn't know looking at the livingroom right now) They arrived about 10:30am. I forgot that I wasn't going to be here this weekend so I called Tom to tell him how much fun he's going to have while I'm gone. LOL Luckily K and J aren't any problem and can take care of themselves.
I'm going with my mom and her friend up to my grandmother's camp on the St Lawerance this weekend. We're leaving Friday after B (mom's friend) gets out of work. There's a huge Arts & Crafts festival up there that we'll be cruising. I probably won't be buying anything, I just like to look. I like to see what's selling and maybe get an idea for gifts. (for me to make) I've never been to this festival so I'm not sure if I'll be able to use any ideas from there...it's a juried show so might be out of my league.
Drew and Pat both had an interview for a job at Wendy's today. They both were asked to return on Saturday to talk to a few managers. It's about 2 miles (if that) from the college so would work out great if their schedules worked out. (meaning no big time blocks between classes ending and job starting time) So cross your fingers they'll both finally have a job by the end of the week! Their college classes start next Wednesday. So their life may change drastically in the next week. :o)