I was sitting here thinking that my "About Us" page needs to be updated....it's almost 2yrs old. Then I remembered I couldn't take any new pics anyways because I couldn't find my memory card. I also realized that I never installed my graphics program when I reformatted. So decided to do that.
That led to looking for the CD (CD rack fell over onto the table a week ago). That led to cleaning off the computer table. I picked up a USB cord and realized it was for my card reader which I had just placed ontop of the CD rack. I start to plug the cord into the reader and realize...there's something in it. Hmmmm...MY MEMORY CARD! Imagine that! A memory card in a card reader...whodathunk?
This led to searching for rechargeable batteries and a charger. I found 2 quick chargers and 11 batteries. I also found a set of batteries that were already charged. Now I'm cooking! I try to sneak into my bedroom and take a picture of Danielle while she's sleeping. I wake her up and end up playing with her. Which led to this....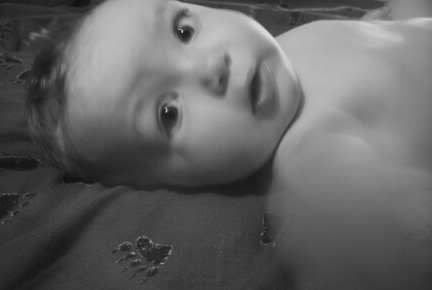 Danielle ~ 8mos
All that to say...now you all are in trouble! I have a camera, memory card and fully charged batteries and I'm not afraid to use them. I'll have you begging me to please leave some of my life to your imagination. ;o)