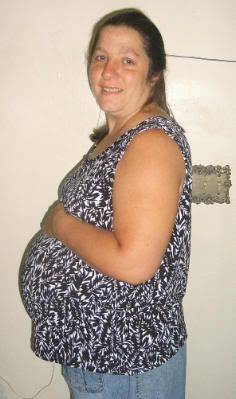 It's been a busy and productive day. My blood pressure is actually cooperating. I did a lot of laundry and even got some things ready for school. I baked bread for the first time in quite a while (it's cooled down quite a bit here so it's doable). Kids cleaned the livingroom and bathrooms really well.
I'm still working on the kitchen and have yet to get into my room. The kitchen I'll do tonight while working on dinner (although we did clean the fridge already). My room will be either before bed or first thing in the morning. Tomorrow night I'll get all the younger ones' "visting" outfits ready. Oh yeah and I have to pack a bag then too. lol
Tomorrow Michelle has a dentist appt at 1. I was going to have Drew or Pat drive her in but since I'm not on bedrest, I can do it. I'm bringing all the kids with me. They've have been bugging me to go to my parent's house for a few weeks, so we'll stop there too. I just wish I could stay home to work AND go into the city at the same time.
Hmmmmm...since sitting down to post this my body caught up with itself. I'm yawning up a storm...I need a nap! Guess if I'm going to stay up and chat tonight I'll need it.