Announcing the arrival of....
Danielle Renee
August 26, 2005
11:17am
Weight: 6lbs 9oz
Length: 21 inches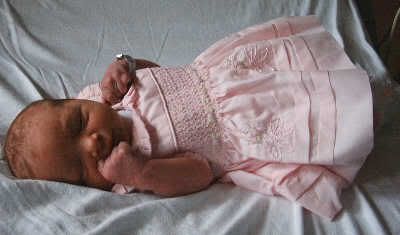 I hardly slept Wednesday night but felt fine I woke up. I was surprised at how calm I felt about it, especially compared to how I felt before going to bed Wed night. Tom and I left for the hospital at 6:30. I was checked in at registration about 7:15. I was put into a labor room and told if I was lucky and an opening came up, I could go into the birthing center. :o)
Dr B came in and did a quick sono to see that she was still head down...YEAH!!! He checked me (2-3cm and 30% effaced) then broke my water and had them start the pitocin. They upped the pit every 15mins which meant I was quickly maxed out. There were a few sporadic contractions but nothing to really report. Tom and I spent most of Thursday day just sitting around and talking.
Dr B came in to recheck me after office hours and I was still only 3cm and 50% effaced and baby was still high. The contractions started making their presence known about 5:30pm on Thursday. I also started getting bloody show. My mucous plug was lost about 7. I spent most of my time with the contractions on my feet, swaying from left to right. About 10ish I started feeling them down into my hips and knew the baby was starting to settle down.
Dr B called for an update around 11:30. He said if I was still under 4cm to stop the pit for the night, let me eat something and get some rest. I'm not sure what my nurse told the dr because I didn't think we needed to stop the pit, I felt like we only had a few hours left until she was born. I was on the verge of asking for some Stadol and had to have Tom's hand for comfort. It's all I ever want...just his hand to hold or stroke. He couldn't even sit on the bed without making me feel like he was too close. But he'd better not move from the side of that bed and take his hand away. LOL
I kept telling my nurse that once I hit 4 I fly to delivery within 30-60mins. She brought another nurse to confirm her measurments. She got 3-4cm and 70% efface, but the baby was definitely a lot lower then earlier. The confirmation nurse had to do the exam twice since there was a slight discrepency at first. She said she felt the baby moving down while examining me the 2nd time. Needless to say the pit was turned off at midnight. I was relieved because labor had been pretty intense and I was tired. I was also disappointed because I thought I was close to the end and knew I'd have to do this all over again in the morning. I was given some stadol and I slept for about an hour.
I didn't want anything to eat because I was nauseated (and did eventually throw up). I also didn't want ANYTHING to do with the old school birthing bed that was in my room. The mattress was so thin and uncomfortable that my sciatica was raging! I couldn't walk across the room after getting unhooked from the pit. It took a minute of working my hips out to finally be able to move. I then stayed in high back chair for the entire night. I felt a lot better but sleep didn't come easy. About 6am my nurse mentioned that she hoped Dr B would show up soon since I'll have had my water broken for 24hrs at 9am. My temperature had also climbed a bit to 99. Oh great! I will NOT be a happy camper if this turns into a section when I could have had my baby already!!!
My day nurse (same as Thursday's) came in and announced that she was moving me to the room next door since it had a nice comfy bed for me! YEAH!!! She then mentioned she didn't know why they didn't move me last night! Booo! It was very comfy...my sciatica disappeared. What a difference!!!!!!!!!!
Dr B came in about 7:45am on Friday and they hooked up the pit again around 8ish. He didn't concur that I would have had the baby in an hour or two if we'd kept the pit on. I hadn't really advanced far from the 11:30 report. I knew that since my contractions pretty much petered out until about 6am when I was hit with a few decent but spaced out ones. He also decided to start an antibiotic since it'd been a while since he broke my water. It didn't bother me, I was used to getting the antibiotics for being GBS+. This time I tested negative (like with Olivia). Unlike with Olivia they treated me as though I was negative and not as though the test lied and I was really +.
The contractions started right back up and were very bearable. I started feeling pressure into my hips again around 9. I also started feeling lack of sleep for days sink in and knew I was exhausted. I asked for some Stadol and relaxed for a little while. When I woke up around 10 the contractions had intensified and I told the nurse. My cervix had thinned out and I was 4-5cm. I had a pretty intense hour. I was crying between contractions because I didn't want to do THIS part! I just want to push and have my baby in my arms!!!
Shortly after 11 I told my nurse I felt rectal pressure. She found me to only have a lip and paged the dr. He walked in with his coffee (had just gotten it after getting out of surgery and then discharging a patient) As soon as he walked in I felt her move down and said she was coming. Tom tried to lift my leg, I slapped his hand and said DON'T! The dr washed his hands, got on his gloves, turned to the end of the bed and said let's go. The nurse lifted one knee, Tom lifted the other and there she was. She was crowning and I gave a slight push and she was HERE!!!!
She was on my belly and was really blue and not crying. One of the nurses and I kept trying to stimulate her and encourage her to cry. I really became alarmed when I put my hand into her armpit to stroke her chest and her arm just fell off the top of my hand. :o( Dr B kept trying to reassure us that it was ok and she had time. He then started moving quickly. Gained more access to the umbilical cord, cut and milked the blood back into Danielle's belly. When he carried her to the warming table next to my bed to work on her she was a as limp as a rag doll. I started crying.
They worked on her with oxygen and suction. I heard her squeak a tiny squeak and Dr B looked over at me and gave me a thumbs up. Then he turned his attention to Danielle again. I later found out that they then gave her a shot of Narcan to counteract the Stadol I'd had. She immediately perked up after that. PHEW!!!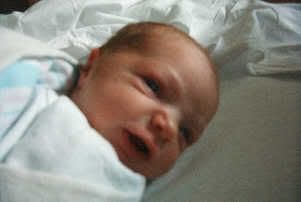 My nurse walked over to the fetal monitor and heard me breath deeply. She wondered why until she realized....I wasn't done yet!! LOL In all the excitement I'd been forgotten about. I then delivered the placenta to be done with the birth completely. :oD
I realized in all the excitement Tom and I both forgot about the digital camera in my bag. I really wanted him to take a movie of her on the warming table immediatelly after she was born. I guess the kids at home didn't need to see that little drama so it was ok. I got her first picture around 2pm during her first bath. I missed a really great shot when I was eating my lunch! She was wrapped in her blankets, laying in my lap and sucking on her hand! (she really loves her hands) It was adorable but I couldn't move to get the camera that was still in the bag. Tom had gone on home to feed the kids lunch and get them ready to come up and visit us. So I was stuck just sitting there enjoying the view alone. Poor me! ;o)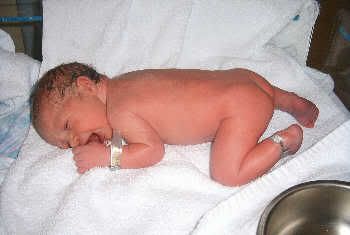 I feel GREAT although I haven't slept much in the last 3 days. Last night Danielle was up and alert for quite a bit of the wee morning hours. I'm hoping it's not going to become a habit. I was dicharged about 2pm today and MADE Tom stop at Walmart and BJs so we could go grocery shopping on the way home. As we were leaving Walmart Pat called my cellphone. Seems my sister went to visit me at the hospital about 20 minutes after I was discharged. She was now waiting for me at our house if that was ok. I told her we had to finish shopping and would be there as soon as possible if she wanted to wait...and she did. We had a nice visit and she ended up taking Liz, Carrie, Eileen and Olivia (her first sleepover) home with her. I'm tired and quite swollen so have to finish this up and head toward bed for a bit.
All the kids are in LOVE with her. They are constantly calling dibs on holding her and there's always a few waiting in line to be next. I realized about 7 tonight that I hadn't fed her since before noon! OOPS! I also hadn't held her since I walked in the front door. LOL Even when I was feeding her I had kids coming and asking me if they could have her. They do tend to get a bit freaked out when she gags, she's still dealing with a bunch of mucous. She's an extremely calm and alert baby. Wonder if she'll stay that way.
I have a picture of all the kids that I'll try to upload and post tomorrow.