Sorry for the length of this. I was afraid I wouldn't finish it if I broke it up into more then one post.
So with no where to drive last weekend I got busy. I did a bunch of stuff that (as usual) isn't noticeable to the common eye. I also went in the pool, cooked real meals and had a REAL conversation with my husband for over an hour! (rare time where the kids slept in) I can't remember when the last time that happened. Over all it was a very good weekend.
I'd decided to cut back on things for the party due to feeling overwhelmed and lack of time. I decided I wouldn't call my aunts and uncles because the house wasn't in the best shape and I'd be embarrassed for them to see it. Everyone else knew what it was like here normally. lol Also I didn't really have the finances to feed everyone. That took a lot of pressure off of me.
I'd also decided there wasn't enough time to paint. I felt the state of the house had gotten so bad that we wouldn't be able to do both paint and clean. Michelle and Val told me if I picked out COLORS (meaning no boring antique white), they'd do the painting. So after picking Michelle up at work on Monday we went to Lowes and picked out paint colors. I decided on Bayside for the livingroom and Steeple gray for the kitchen. What I told the paint guy was totally different. Michelle looked at the paint chip I referenced for the livingroom and asked why I changed my mind on the color. I realized my mistake but it was too late, he'd already mixed it. He had to mix me up a new one and mark the original can as a mistint...oops! When I got back the can of gray I noticed it said Feldspar on it. I looked at the paint chips and sure enough...I'd pointed out the WRONG chip to him. I couldn't bring myself to cause another can of mistint and ask for the lighter steeple grey, so we took it home.
The girls went right to work....
The thing about painting is....you have to pull the room apart to get it done. So while we were suppose to be making the rooms neater. They were getting destroyed! UGH! We finished the livingroom in the wee hours of Tuesday morning (yes, I ended up painting too...I know...they said they'd do it...but still, they can't have ALL the fun lol).
Tuesday morning we were up bright and early, ready to take on the house again. Val got to work on the kitchen and Michelle had a brilliant idea...NOT! Hey Mom! Can I do the kitchen floor!?! You see my kitchen floor was a mess! It's 19yo almost bottom of the line linoleum. To make matters worse when we put our refrigerator in (when the house was just being built) the fridge ripped the linoleum. We never managed to fix it correctly. Over the years the rip has slowly grown so that a huge section of the flooring is missing in the middle of my kitchen, almost all the way across the room. It looked horrible. I'd bought boxes of cheap vinyl tiles to temporarily lay down until we had the time and money to put in real tiles. The boxes have been sitting in the corner of the kitchen for well over a year (might even be two years). I've asked for them to be put in for birthdays, mother's day and christmas presents but there they sat. So Michelle finally had the gumption and incentive to do it. Val agreed to finish the painting on her own. I of course said sure...go ahead! Deadline...what deadline? I laugh in the face of deadlines! HA ha ha!
We push everything over to one side and Michelle and Carl start ripping up the linoleum. Hmmm this wasn't going to be as easy as we thought. What hadn't chipped away was securely glued to the floor. By the time Michelle needed to leave for work they had a third of the top layer off, the backing and adhesive were still there. After dropping off Michelle I ran to Lowes and bought some adhesive remover and putty knives to try to remove what was left behind. Carl and I worked our fannies off and it wasn't going so well. I picked up Michelle and the 3 of us started back on the floor again. All the time I'm thinking...I'm suppose to be CLEANING! lol We mess with that third of the floor into the early hours of Wednesday. I was getting blisters from the putty knife and my shoulders were killing me. At least Val got the kitchen painted. Poor Sean was really irritated because he couldn't have his mom whenever and however he wanted. Luckily the little girls and my nieces were here to try to keep him and Danielle busy.
Wednesday was Eileen's 10th birthday. She'd really wanted to do something so Tom took the day off and took her to the beach for the day. (he's such a sweetheart!) He had Eileen, Olivia, Danielle, my sister's youngest and a few of his sister's little girls. They surprised me and stayed until the park closed.
Val was pretty happy to see them go. She was painting the hall which is very difficult to do with people walking up and down it. Tom and I decided the kitchen floor didn't have to be perfect since it's intended to be temporary. So we ripped the floor up and scraped what we could, making sure there were no lumps to mess up the tiles. (if we had the money we'd have just laid luan down over the old flooring...problem solved). The job that I thought would talk a month went quickly after that. We were ready to lay tiles that night. Everyone sat around watching Val and I lay them down. New floor installed by 2am! Yay!!! What a relief!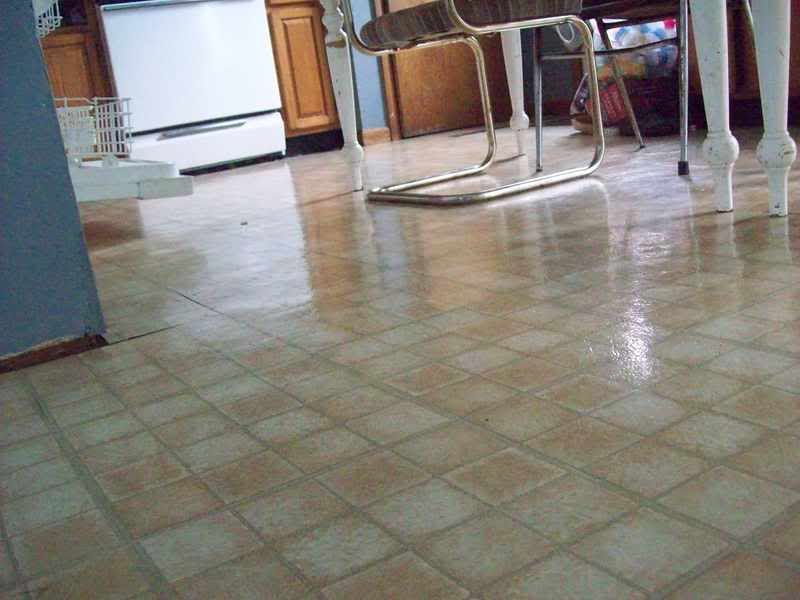 You can see the color of my kitchen in this one too.
Thursday morning I dropped Carrie off for the school bus then Michelle, Sean, Cory and I got ready to go shopping for the food. We made good time and pretty much stuck to the list, still it was HUGE carload! Everyone helped unpack the car when we got home. We started putting the newly painted rooms back together. It was great having the kitchen tables back. I just don't have any counterspace to work on. Poor Danielle she didn't get it. She kept asking me...can I have some? Only to be told...that's for the party. I finally relented and let the little girls have some treats for a much needed movie night in their room.
Having everyone settled down for the evening I did what any sensible person getting ready for a party would do....I recovered my couch! I bought 2 queen size sheet sets and got busy with a staple gun, needle and thread. I was talking to my sister on the phone and she couldn't believe I was doing it. I told her too bad, I'm enjoying it and I'm gonna do it. Besides if I don't want to sit on my couch, how can I expect anyone else to? I'm quite proud of my work...if I must say so.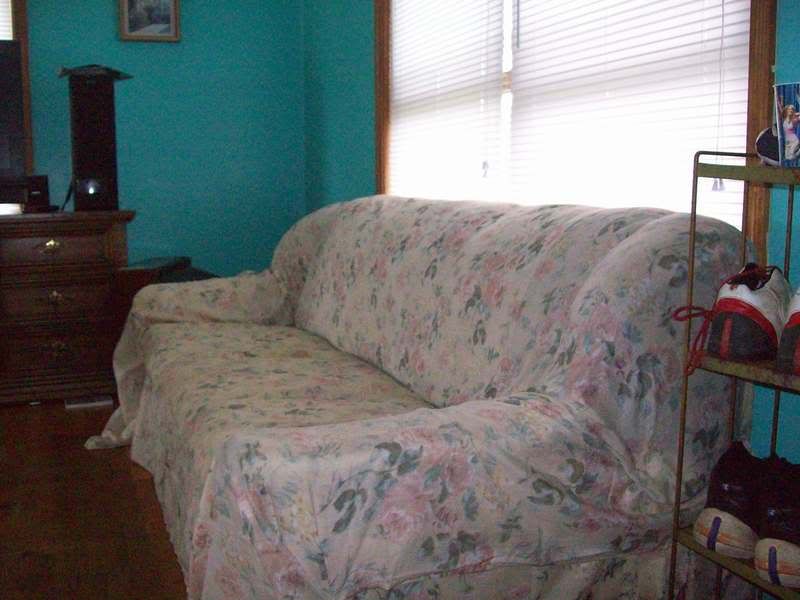 Notice the new white blinds too?
Incase you were wondering what it looked like before...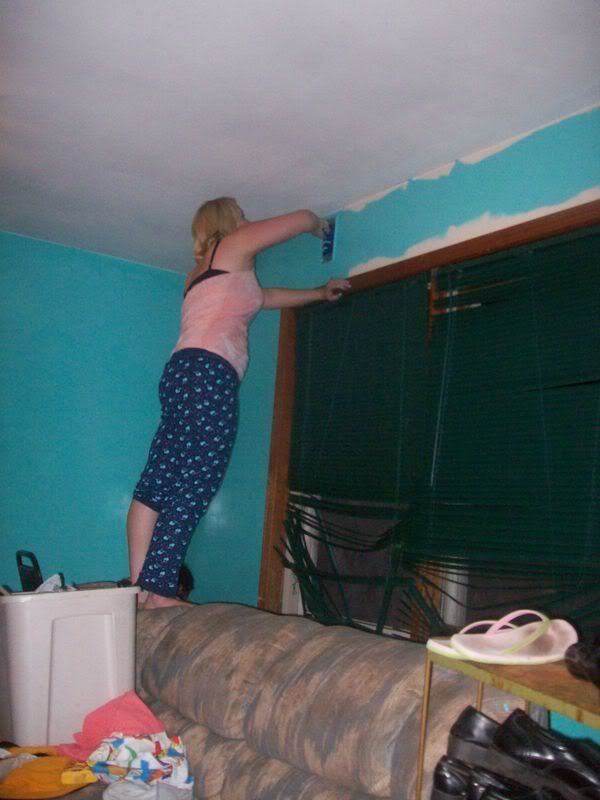 Can someone PLEASE tell me why it's almost impossible to find blinds in any color besides white? You used to be able to get green, black, blue and rose off the shelf no problem. Now all they carry is white or alabaster. What about some nice black room darkening ones!?!
Anyways Thursday night we finished putting the rooms back together and took care of all the odds and ends that needed to be done. Well with a bit more being done on Friday morning (mostly odd kitchen stuff that I have NO idea what to do with in my limited cabinet space).
Friday afternoon I started the cooking. We were eating what I put out shortly after the first guest pulled up. The work was done and the fun was about to start!