When you thought the day couldn't get anymore exciting. I get to tell you that I sent Tom an email at work today. I hear you all thinking. Big whoop! What you don't know is that in that email was a link to this picture....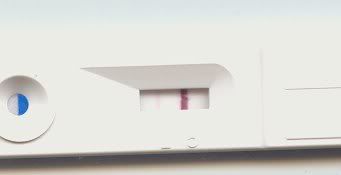 Yep that's TWO lines there. I'm pregnant! Due 4/30/07 or so...probably be induced mid April.
My cycles been off a bit going from 30 - 37 days in length lately. I was on cd32 when I tested. I tested with FMU and it took a while but a faint pink line showed within the first 3 mins. I put it away in a drawer not really believeing it (timing for it to really be positive is all flooey). I looked at it a few hours later and I could still see the line but it changed...it looked greyish, like a shadown. I thought...evap line for sure. All of a sudden I had to potty again so I grabbed my last test. This time the line showed up quicker, pinker and it stayed! (that's the pic above). I hadn't really notice pregnancy symptoms until after the test, then I was shaking and felt like I was going to barf. Needless to say it was pregnancy but not symptom related. I probably would've taken more tests today but the dollartree only had 2 tests on the shelf last night so I had to settle for that. lol
There was a minor glitch with my email to Tom this afternoon. The security settings on his work computers wouldn't let him open the link to my picture. He had to wait until he got home to see what was so interesting that I'd want to share. The waiting was KILLING me! As soon as he walked in the door, I showed him the pic on our computer. He couldn't figure out what it was! I had "hidden" the test so the kids wouldn't find it. I handed him the case I had it, he pulled it out, looked at it and asked...What is this? Like he'd never seen one before! ROFL! Then when he realized WHAT it was he asked WHO'S is it? over and over.
Since we hadn't told the kids yet and we were trying to be discreet I pushed Tom out the front door so we could talk about it. He claimed there wasn't 2 lines until he got outside and could see it in the sunlight. (think it was more unbelief then partial blindness) He was shocked yet happy. I think that's a great response from someone who said we were DONE after #9 was born. (although I know he wasn't so adamant about it after Danielle was born)
After we talked I went into the house and asked Michelle and Liz if they wanted to see the picture that Daddy couldn't figure out. They both said yes. Liz kept saying...who's is that...just like her father. Michelle kept telling her...it's a pg test. Not what she was asking Michelle. lol Eventually a few of the little ones caught on that there was something exciting being discussed at the compture. Within minutes they'd figured it out, spread the word down the hall and were dancing around. Consider everyone who was here happy. Val and the 2 older boys weren't here so their reactions were a bit more reserved (haven't talked directly to Val, Liz IM'ed her the news).
After a while today I got to thinking about later on in this pregnancy. It's going to be interesting, especially if I get put on bedrest again. I'm not going to have anyone around to help me during the day since everyone will be in school. Liz suggested she could skip the last month or so of school...yeah right. I suggested I try to be induced during spring break...woooohooooo! Hmmm I just realized that Tom will have to save time from THIS year so he'll have time to take when the baby is born. His vacation calendar year starts on May 4th. Like I said...this is going to be interesting.
PS...not sure about my blood pressure but my glucose has been at great levels so far! With Danielle I needed insulin by the time I hit 5wks (I'm 4wks and 3 days now).
WE'RE GONNA HAVE A BABY!!!