On Saturday my nephew who is 6mos older then Drew was married. We had a great time. The bride was gorgeous, the groom handsome, and the food decent...just like a wedding should be. It rained so the outside ceremony had to come in (and was a bit cramped) but it still worked out fine. Because of the size of Tom's family they had to have a cutoff age of 17yo. Only Drew, Pat, Michelle and Danielle went with us. I gave the camera over to Tom since I had Danielle...mistake! I forget that he's not camera savy. Almost all of the pics came out blurry. The ones that aren't blurry have a huge glare from all the mirrors hung around the place (so not Tom's fault)
These are the only 2 pics that came out...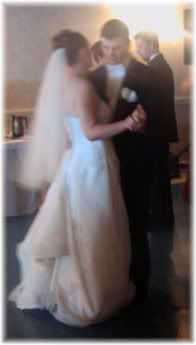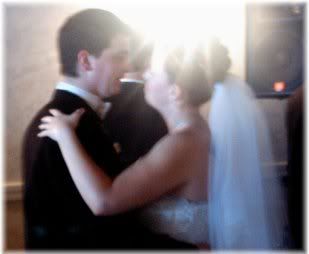 On the way to the wedding I realized I'd had some phone calls on my cell while I was at my parents' house. I checked my voicemail, heard a message from the leading brother at church and called his house. His wife informed me that the oldest member of our fellowship passed away Friday evening after some heart problems. :o(
The wake is Monday morning, funeral is that afternoon and then we'll have a feast for her afterwards in the evening. It's going to be a long day. Most of the kids have a half day of school so will probably just stay home. Liz will be missing the whole day but really wants to attend everything, so I'll let her (it's her bestfriend's great aunt).
Need to go to bed so I can function tomorrow.