On Friday I had to play catch-up from the stomach bug. We were having Liz's birthday party and I had things to do! Michelle, Liz and I went shopping, finishing up in time to pick up 3 of the 4 girls on the way home. We decided to have chinese for dinner and pizza at the drive-in. We dropped the groceries for the house off and headed to the church conference center to set up our dorm rooms and eat.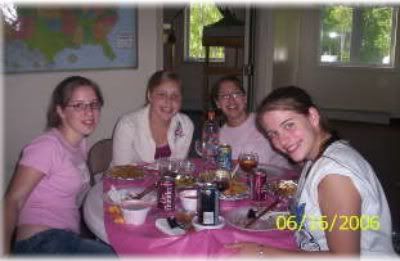 Liz, J, P and EB
We headed to the drive-in early so we could get a spot. The girls played tennis, volleyball and football in the back of the lot to pass the time. I stayed at the van and got treated like dirt from people who didn't care they were blocking our view and who's kid I "saved" from squishing tires. Yes, you read that right.
The place was packed and until the movie started, cars were driving down the lanes constantly. Four cars down a woman got out of her car with her 2 kids, around 18mo and 3yo. She put the 18mo down and started talking to someone on the otherside of the vehicle. The 18mo toddled away across the lane. 4yo started yelling....Mom! Mom! X is in the road! She yelled at him to go get him, continuing her conversation. I saw a pickup coming so walked across the lane and stood there besides them, watching the 4yo trying to wrestle his brother. I didn't feel right touching the boy. I was already holding Danielle so it would've been difficult to pick him up anyways. The 18mo saw the pickup, started panicing and was trying to cross back to his mom. The 3yo was pulling on him, trying to keep him back from the lane, still screaming for his mom. I stepped in front of the toddler and put my leg out when he tried to go around me. After the pickup passed us the boys started back toward their mom, who met them in the middle of the lane. She looked up at me and snarled....What're you lookin' at!?! Under my breath I murmured....Obviously...not much! I'm not sure if she heard me or not but I could hear her talking very loudly to her friends about how she'd....kick that b!tch's a$$! I just shook my head and thought....sweetie...At another time, another place. You just might have gotten the chance to TRY! By the way.....You're WELCOME!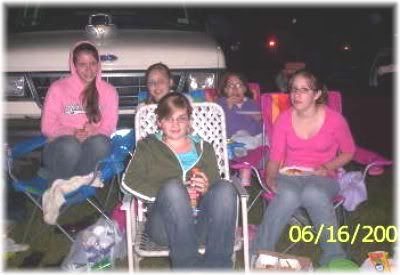 front...ES and Liz
Back....EB, J and P
Thankfully the rest of the evening was uneventful after that. We saw Cars, Shaggy Dog, and Eight Below...getting home shortly after 4am. Of course the girls couldn't go right to sleep, neither could I. Last time I reminded them they had to work to do the next day was at 5:30, it was getting light outside and the birds were singing. lol I was nice and let them sleep in until 11. This gave them just enough time to get up, get dressed and have breakfast. Then they went out into the scorching sun to work at a church fundraiser. I got home around 2'ish. I was dragging most of the day since I hadn't slept well. But at least I had fun. :o)