We wanted to spend the day at the beach. After not getting myself to bed until after 5:30 the night (or is that morning) before I didn't get my rear out of bed until 10. We desperately needed to go grocery shopping so decided to get food on the way to the beach.
We left the house between 11:30 and 12:00, stopped at the grocery store and spent WAY too much money, got gas and hit the road. We pulled into the parking lot of the beach at 2. It was slightly busy there. We set up our tables and protected the food from the agressive seagulls, had lunch and then ran to the water...I know...we're suppose to wait! But oh well.
Tom's not quite used to going to the beach with the kids and went back up to the picnic table shortly after we got into the water. I had a hard time staying in the water with the swimmers and watching little ones playing in the sand. So I crashed his peace and quiet and made him come down to the beach and sit. Poor guy. The older kids dug a huge hole, sat Jake in it and covered him up. Then then decorated him into quite the dish....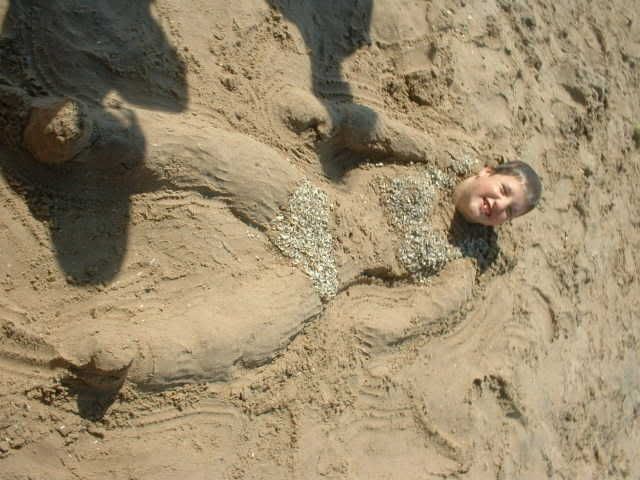 Oh yeah! I found out that the newly charged batteries I put in the camera the night before were on the verge of dying. I'd take one picture and it would die. :o( So my idea of getting a group shot while here was gone (Drew didn't come so it wouldn't have been everyone anyways).
The kids had a blast swimming and jumping the waves. Olivia has turned into a little fish this summer!! I just walked in the water, not sure why I didn't want to go under water. Just standing in it was refreshing enough though. I got a bit of sun on my back and my farmer's tan became less noticeable.
I kept telling the kids that this beach was lame. Asking them....How come everyone isn't singing and dancing like in the movie "From Justin to Kelly"? They all thought I was the lame one especially when I started dancing in the water like I was in the movie. We started talking about what if we lived in a foreign country and that movie was the only reference of how American beaches were. How disappointing it would be to really go to a beach LOL
The kids built a drip sandcastle before we left the beach when it closed.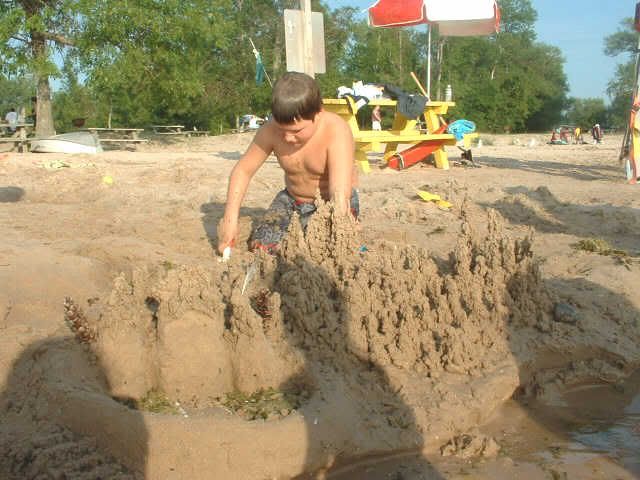 After closing up the beach we headed to the showers and got cleaned up. We finished up the night eating dinner (sandwiches, plums, and chips) while watching the sunset. It got cloudy so the sunset wasn't as spectacular as it could be...but it was pretty nontheless. See for yourself...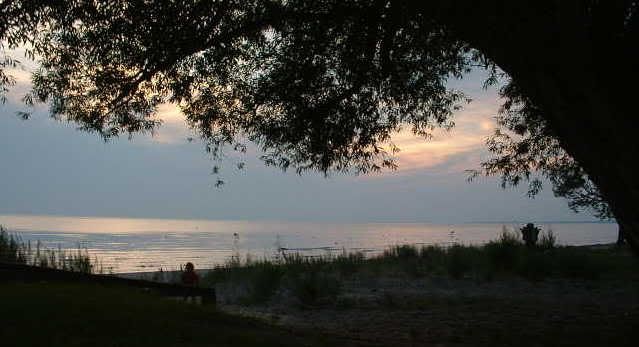 We got home, unloaded the van and promptly fell into bed!